Teaching abroad: an enriching experience from all points of view
Dr. Alan Barkun, an internationally renowned gastroenterologist and the director of Digestive Endoscopy and Quality in the Division of Gastroenterology of the McGill University Health Centre (MUHC), traveled to Myanmar in the summer of 2015 to share his knowledge and expertise as part of a 10-day trip organized by the American Society for Gastrointestinal Endoscopy (ASGE). During this holiday period, when the spirit of altruism is in the air, we thought it only appropriate to share this interview that was conducted with Dr. Barkun this fall.

Please tell us about the program that you participated in.
It was basically a philanthropic initiative aimed at exporting endoscopic medical care, expertise and teaching to regions around the world that are in need. After applying for the Myanmar trip, I was chosen along with three other doctors from different countries. As "ambassadors," we were able to give some of our time to advance this initiative.
What did you teach?
My role was to tackle complex cases using the available resources. More specifically, I was asked to teach cholangio-pancreatography (ERCP)*, a procedure that uses X-rays and an endoscope to examine or treat organs like the pancreas, liver and gallbladder.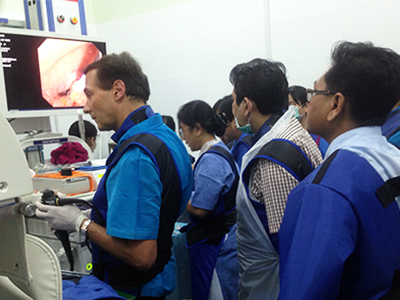 How did it go?
It was a demanding but gratifying experience. We started each day presenting at a two-hour conference before spending six hours seeing patients. I taught 30 people at a time, quite a contrast to the three people we would generally have gathered here for that kind of session in the fluoroscopy room. Everyone involved was clearly happy to be there and demonstrated a good knowledge of what we were working on. 
Obviously, we had to adapt to local realities. The equipment wasn't bad, the people were competent and there were adequate resources, but it's true that everything didn't function quite as well as we're used to here. One day there was a power outage that lasted several hours. Another time, a patient had a heart attack but when the crash cart came, the equipment wasn't working. Thankfully, the resuscitation procedures were enough.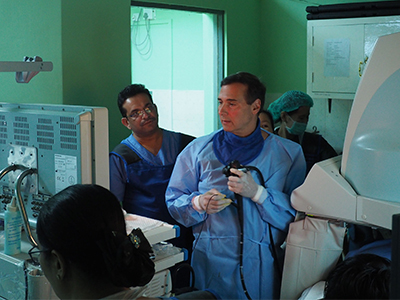 What other allowances does this kind of trip require?
You have to keep the context, cultural and political – and even religious – in mind. Asking for informed consent from a Buddhist patient isn't quite the same as asking for it from a Catholic Christian. 
You also have to adapt to different ways of practicing medicine, differences that one should not, in my opinion, connote with a lack of competence. You have to be open enough to discuss situations with people and tell them that there may be a variety of ways do things.
What did you take away from this experience?
When we travel for work, or even when we're just here at the MUHC, we're used to being in the company of some of the top specialists in the world. On this kind of trip, you realize that there are extremely competent people out there, often working on a shoestring budget, and that we never hear about them. It's truly a lesson in humility. 
You also realize how lucky we are to work under North American conditions – even though everything isn't always perfect – and it brings you back to the underlying values of medicine and the real reason we practice this profession, which is to help patients. 
I'll never forget the kindness of our hosts and their desire to learn in order to improve the health of the population they serve. I met many inspiring people, especially the endoscopy society leaders, who are women working with a vision, a largeness of spirit and a sense of responsibility and duty to their country. They weren't there just for their careers but to do what is right for their patients and colleagues. 
Overall, it was an enriching experience both culturally and personally. It also served to contribute to improving the health of a vulnerable population and to broadening the reach of the MUHC and McGill far beyond our borders.
look for the cause of constant abdominal pain or jaundice
find or remove gallstones in the bile duct 
open a narrowed duct by inserting a stent (small tube)
take a biopsy (a tissue sample to be examined under a microscope)
diagnose diseases of the pancreas, liver, gallbladder and bile ducts, such as inflammation, infection or cancer
*Source: Canadian Cancer Society