Keeping your chin up after head trauma
Stephen Masciotra can't remember a thing about the car crash that left him in a coma at the Montreal General Hospital of the McGill University Health Centre (MGH-MUHC) for six weeks in June 2008, when he was 18 years old.
"My memory was affected, and I have a hard time with problem-solving and mathematics," the young man says. "But I've come a long way since the accident."
When Stephen arrived at the hospital, he had head trauma with internal bleeding, and his brain was swollen. He underwent surgery to relieve pressure within it, but doctors weren't sure he would be able to eat, speak or walk.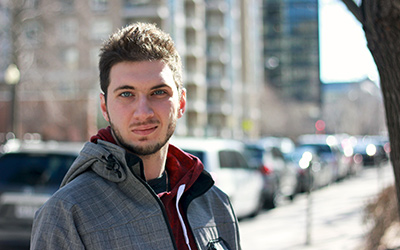 "My mom's very religious and prayed for me every day," he says. "She would go straight from the hospital to St. Joseph's Oratory to pray for my recovery."
Years in rehabilitation
Stephen spent three months at the MGH, and another year at the Gingras-Lindsay-de-Montréal Rehabilitation Centre. His injury was on both sides of the brain, but his left side was more affected, so besides problems with memory and reasoning, he also had difficulties speaking and trouble moving his right arm. He had to re-learn nearly everything with the help of physiotherapists, speech therapists, occupational therapists, psychologists and social workers. He was later transferred to the Constance-Lethbridge Rehabilitation Centre, as an external patient, to continue treatment. Eight years later, he has come a long way and says there are still minor improvements. 
"Now, when I speak I'm mostly understandable, unless I'm tired. I also go to the gym to work on my right arm and activate the muscle, so my arms are proportionate now."
Throughout his recovery in the hospital, the young man always tried to keep a positive outlook, with help from his parents and the healthcare staff. For the past three years, he has been volunteering at the Montreal General, in the department where he spent three months of his life, as a way to give back to those who supported him.
"People at the Montreal General did more than just their jobs; they lifted me up, so now I want to help in some way. I talk to patients and families and give them hope."
Stephen is now facing another challenge: he wants to complete a degree in Physical Rehabilitation at Dawson College.
"Because of what I went through, I know rehabilitation like the back of my hand," he says. "I think I'll be good at things that are more hands on, but first I need to pass the more difficult scientific subjects. And if at first I don't succeed, I'll try again. The recipe is to never give up."