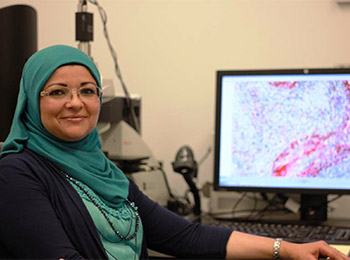 "Histopathology is like an art," says Fazila Chouiali. "I just love working with the microscope, and after staining I get to see the results first-hand. Look at this—it's magnificent!"
Research has always been in Fazila's blood. She has plied her art in a number of labs at the Montreal General Hospital, the Royal Victoria Hospital and Meakins-Christie Laboratories. However, moving the research facilities to the Glen site marked the start of a new chapter in Fazila's career, as she was named manager of the Histopathology Platform at the Centre for Translational Biology of the Research Institute of the McGill University Health Centre (RI-MUHC).
"As the person in charge of the Histopathology Platform, I get to work alongside a number of researchers, and I get my feet wet in several research fields," says a beaming Fazila. "I'm proud to have come such a long way in my career."
Each day, the team behind the Histopathology Platform receives several dozen tissue samples from the hospital or the Research Institute. Fazila offers a varied range of services, from preparing samples for immunohistochemical staining to laser microdissection.
"Our expertise, coupled with high-tech equipment, allows the platform to ensure good quality service, and it facilitates the work of researchers in histology," explains Fazila. "Collaborating with and serving the entire research community—that's what drives me."
"With an eye to constantly improving, I try to meet the needs of research laboratories by carrying out routine histopathology tests or doing research and development. The challenges are day-to-day, but I'm super motivated. I thrive on that! I work with everyone, and I feel like I'm an important member of the RI-MUHC family. "
[See all]