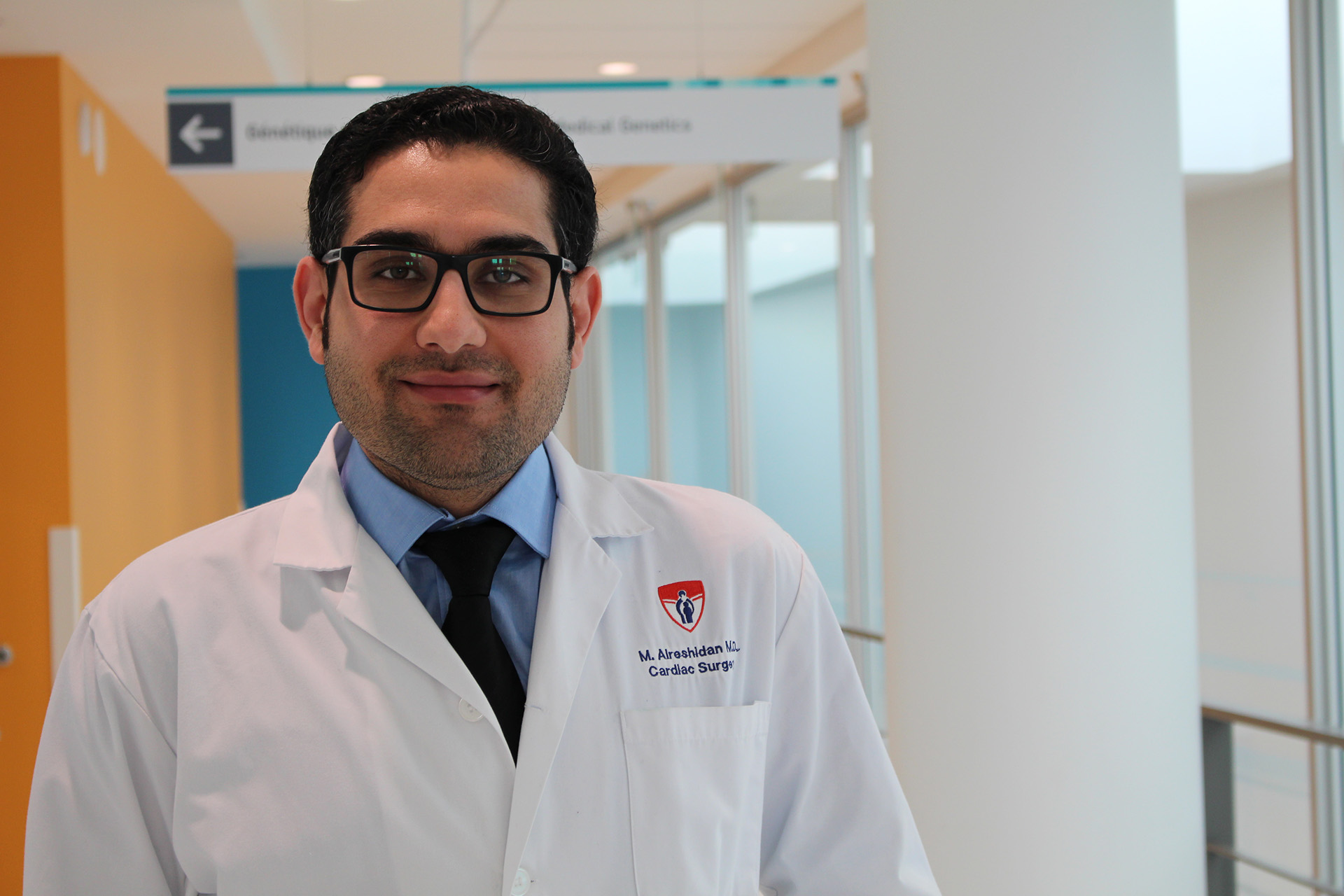 "When you get to see a patient a few month after their surgery in clinic, and they are playing and jumping around… that's very rewarding. They can go on to do great things in their lifetime."
What's your current role at the Montreal Children's Hospital and how did you get here?
I am a fifth-year cardiac surgery resident, currently completing my six-month rotation in Pediatric Cardiac Surgery. I began my residency at McGill University in 2011, after having completed my medical degree at King Saudi University in Saudia Arabia, where I am from. I will be graduating next June, after having completed six years of residency here.
How did you decide you wanted to study cardiac surgery?
When I was in high school, my cousin gave birth to a baby with a cardiac malformation. He had surgery right after he was born, and then went on to lead a totally normal life, and that inspired me a lot. My uncle was also diagnosed with heart disease when I was growing up, so I was exposed to what those experiences were like. I was already interested in the heart and how it worked, and then when I got to medical school, it just re-confirmed my interest.
How does working with pediatric patients differ from working with adult patients?
It offers unique challenges. You're not just caring for the patient, but you're working closely with a child's parents, who are usually very worried and concerned when they are first told their child needs open heart surgery. Performing surgeries on such small infants is also very technically complex, and we have to rely on the expertise of the team around us to ensure that everything is done very carefully.
Which physicians do you currently work with and how do they increase your knowledge?
I'm really proud to be able to work and learn from Dr. Christo Tchervenkov, who has over 29 years of experience as a pediatric cardiac surgeon and Dr. Pierre-Luc Bernier, who offers new perspectives and new techniques. It's good to have that blend of both experience and new energy to increase my knowledge.
What is the most rewarding part of your job?
Seeing patients a few months after surgery—when you spot a child you once operated on in the clinic, and they are playing and jumping around…that's very rewarding. I've also gotten to meet adult patients who were once operated on as children and now need to do follow-up surgeries as adults. You meet them and you find out that they have done amazing things with their lives: they have been involved in their community, gone to college. That's tremendously rewarding for me.