MUHC in the News | February 13 - 17, 2017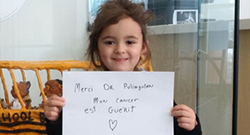 The most beautiful Valentine's Day gift for a little girl
A 5-year old girl from Longueuil certainly received the most beautiful gift for Valentine's Day. Léa Gauthier learned today that she is officially in remission from an extremely rare cancer, discovered when she was only four months old. The MCH's pediatric oncologist Dr. John J. Mitchell and pediatric surgeon Dr. Pramod S. Puligandla talked about the ideal treatment for a 4 1/2 month old baby. Jean-François Gauthier praised the MCH as "the best hospital". He insists that all the staff of the hospital have supported the family in every possible way, and today he wishes to thank them from the bottom of his heart. For all details, visit TVA Nouvelles.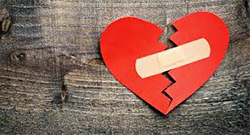 Love Sick
"Valentine's Day can be a difficult day for some people," explains Dr. Lila Amirali, head of the Department of Child Psychiatry at the Montreal Children's Hospital. "Heartbreak is a frequent trigger in some 1,000 young people who come to our psychiatric emergency department," says Dr. Amirali. For more about broken hearts, Valentine's Day and depression in teens, visit La Presse.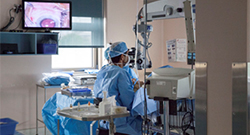 $300,000 donation
Thanks to the generosity of their donors, the Lachine Hospital Foundation raised $300,000 in 2016. As a result, the hospital centre has been able to buy new medical equipment to enhance patient care. For all the details, check out the Journal Métro.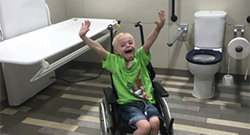 Parents asking for public restrooms better adapted to handicapped children
According to the planning manual of the Ministry of Health, hospitals are not required to have handicap-accessible restrooms. Montréal's Sainte-Justine intends to be a pioneer in the field. A room with a changing table for adults will be available in February. The Montréal Childrens' Hospital is taking steps to offer the same equipment. You can find more information on the Radio-Canada website.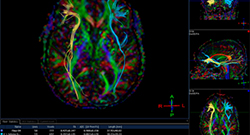 Montréal, city of neuroscience
Montréal universities offer highly respected programs in Neuroscience and Behaviour studies, with degrees available at McGill University, Université de Montréal, Concordia University and NeuroQAM at the Université du Québec à Montréal. The Montréal Neurological Institute and Hospital at McGill, known across the globe as the Neuro, is a world leader in advanced patient care and brain research. Home to an internationally renowned group of researchers, the Neuro's impact on neuroscience is second-to-none. For more information, visit Montreal Tourism.