Montreal General Hospital receives $8.5M for research-facility upgrades and energy-saving renovations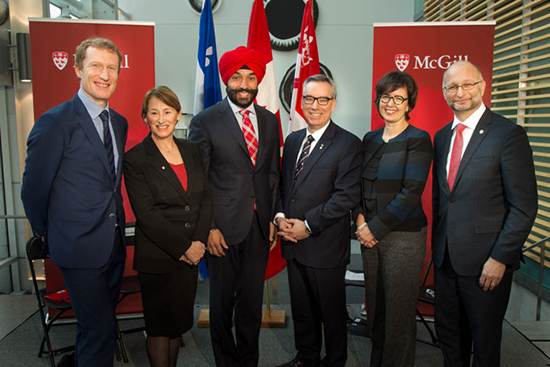 Montreal – The Government of Canada announced today in Montreal that McGill University, the McGill University Health Centre (MUHC) and the Jewish General Hospital will receive $70.7 million through the Post-Secondary Institutions Strategic Investment Fund, for upgrades to research facilities and energy-saving renovations. The Montreal General Hospital of the MUHC will receive $8.5 of the total, which also involves contributions from the Quebec government and the Montreal General Hospital Foundation.
"This historic investment by the Government of Canada is a down payment on the government's vision to position Canada as a global centre for innovation. That means making Canada a world leader in turning ideas into solutions, science into technologies, skills into middle-class jobs and start-up companies into global successes," said the Honourable Navdeep Bains, Minister of Innovation, Science and Economic Development.
"The Montreal General Hospital is an integral part of the MUHC and McGill University, and this grant will help allow the institution to continue operating at the pinnacle of the medical profession, and build on its impressive history of medical achievement, and excellence in teaching and research," said Martine Alfonso, Interim President and Executive Director of the MUHC. "We thank the Canadian and Quebec governments as well as the Montreal General Hospital Foundation for their generous support."
These funds will make it possible to renovate three areas of the Montreal General Hospital: the Centre for Outcomes Research and Evaluation (CORE), the Centre for Innovative Medicine (CIM) and the Surgical Innovation Platform.
Contact:
Valérie Harvey
Communications - Research, McGill University Health Centre
valerie [dot] harvey [at] muhc [dot] mcgill [dot] ca
514 843-1560