Final chapter of transfer to the Glen off to a great start
As part of the final stage of Canada's biggest hospital move, the McGill University Health Centre (MUHC) completed today at 10:46 am the transfer of the hematology/oncology and palliative care inpatient services from the Montreal General Hospital to the Glen site. Following the same rigorous methodology established by Health Care Relocations (HCR) that proved effective for the adult and pediatric transfers, 21 patients were safely moved in a well-rehearsed operation which lasted 2 hours 46 minutes.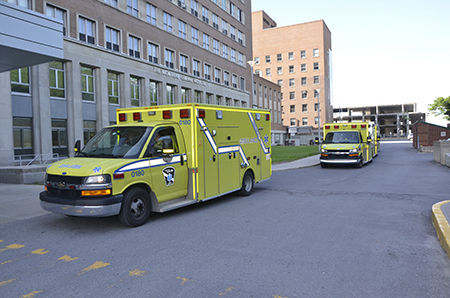 "As with every one of our patient moves, our number-one priority was to ensure the calm, methodical movement of all patients without ever compromising their care or safety," explains Patricia Rose, Senior Advisor, Redevelopment for Adult Sites and Patient Transfer Coordination Committee co-chair. "Once again, the success of this move can be attributed to the tireless efforts and skill of MUHC employees and doctors, staff from Health Care Relocations (HCR), Urgences-santé paramedics, Medicar technicians and all of our volunteers. Command centres at the Montreal General Hospital and the Glen site once again helped ensure the continuity and quality of patient care." The Ville de Montréal, the City of Westmount and the SPVM also contributed to the success of this event.
The relocation of the Palliative Care and Hematology-Oncology units to the Cedars Cancer Centre at the Glen site will provide our patients with some of the finest medical facilities in the country and conveniently offer cancer patients and their families everything they require all in one location. In addition to the state-of-the-art Radiation-Oncology Department and Oncology Day Hospital, the centre also comes complete with ambulatory clinics, a medical physics department, an oncology pharmacy, and a palliative care day hospital. Additional holistic benefits include healing green spaces, such as a tranquility garden; the Adult Resource Centre, a quiet haven for those needing to access its vast library of important health information or support groups; and much more.
Remaining in the heart of downtown Montreal, the Montreal General Hospital will continue to fulfil its tertiary trauma centre mandate and continue to play a vital role within the MUHC.  The Montreal General Hospital's services continue to be modernized and upgraded with the recent creation of a psychiatric emergency and short stay unit," explains Ann Lynch, Associate Director General, Clinical Operations, Adult Missions. Please consult www.muhc.ca for the complete list of services offered at the Montreal General Hospital.
The MUHC wishes to thank patients and their families for their patience and understanding during this operation. Please note that final patient move is slated for this afternoon and will see the last patients from the Montreal Chest Institute moved to the new Glen site.
For more information, contact:
MUHC Public Affairs     
Phone: 514-843-1560      
[email protected]
About the McGill University Health Centre (MUHC)
The McGill University Health Centre is one of the most prestigious university teaching hospitals in the world and provides exceptional patient-focused care that is integrated with research, teaching and technological assessment. Deeply committed to a continuum of care within the community, the MUHC is affiliated with McGill University's Faculty of Medicine and is part of the RUIS McGill. All of its hospitals (Montreal General Hospital, Royal Victoria Hospital, Montreal Children's Hospital, Montreal Neurological Hospital, Montreal Chest Institute and Lachine Hospital) use a multidisciplinary approach at every stage of life and apply innovative techniques and practices, strategic partnerships and leadership in knowledge transfer. A $2.355-billion redevelopment project is currently ongoing at the Glen site, the Montreal General Hospital and the Lachine Hospital to give health professionals an ideal environment to deliver the best care for life to patients and their loved ones—now and for generations to come—that also complies with exemplary sustainable development practices, such as those set out under LEED® certification and BOMA BESt certification.
www.muhc.ca