November is National Diabetes Month
It is well known that walking may help prevent type 2 diabetes and is an excellent physical activity for patients diagnosed with the disease. A recent study published by a team at the Research Institute of the McGill University Health Centre (RI-MUHC) suggests that even though pedestrian-friendly neighbourhoods have the potential to help us walk more, we don't use them enough. 
"We have walkable neighbourhoods, where stores, banks, schools and other services are close by, in many towns and cities in Canada, but they have to actually be used to help us reduce our risks of developing chronic conditions like type 2 diabetes and its associated complications," says study senior author, Dr. Kaberi Dasgupta, MUHC internal medicine physician and an associate professor of Medicine at McGill University. 
The study measured two outcomes: utilitarian walking (walking people do to get to places such as work, school and groceries) and daily step count (the number of steps we make during the course of the day). The daily step count includes both utilitarian and recreational walking and is a good indicator of total physical activity.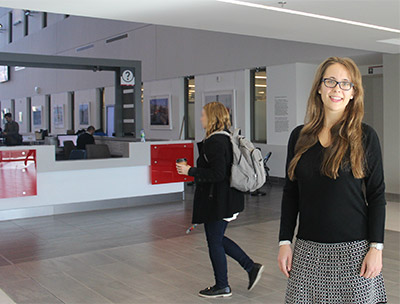 "Contrary to our expectations, our study showed that although people living in more walkable neighbourhoods report more utilitarian walking, they are not more active overall compared to people living in less walkable neighbourhoods," says study first author Samantha Hajna, who is a PhD candidate in the Department of Epidemiology, Biostatistics and Occupational Health at McGill University. "Their total number of daily steps remains below the recommended amount, which is 10,000 steps a day. This is different from studies in Belgium, the Czech Republic and Japan, where living in more walkable neighbourhoods is associated with walking more overall."
The research team used data from the Canada Health Measures Survey. Nearly 3,000 adults in 15 major sites across Canada answered a questionnaire about their daily utilitarian walking and used accelerometers (movement monitors) that measured their number of daily steps. 
"These results suggest that walkable neighbourhoods are an important factor in helping people achieve more utilitarian walking, but that we may need to promote their walkable features, as well as encourage recreational walking and other forms of exercise,'' says Hajna, who works under the supervision of Dr. Dasgupta and is co-supervised by McGill Geography's Dr. Nancy Ross. 
A great exercise for diabetics
Walking with a purpose may be especially helpful for patients with type 2 diabetes.
"Walking is the preferred form of physical activity among patients with type 2 diabetes," says Dr. Dasgupta. "It's easier to incorporate in their lifestyle and involves fewer risks of injuries than other sports. Unfortunately, these patients don't walk enough. Their total number of daily steps is half the recommended level."
In her future research, Samantha Hajna would like to measure the impacts of a variety of environmental factors on the risk and evolution of diabetes and other chronic conditions so she can work on actions to encourage patients to be more physically active.
But, for now, she hopes we will all make the effort to leave the car behind and just walk.
"Whether we go for a stroll in the park or run errands on foot, the important thing is that we get out there and walk," she says enthusiastically. "It can make a world of difference for our health."