Over twenty five years of sewing for smiles
84-year old Vivien Chai is a petite woman with a big, warm heart. For over 25 years, she has dedicated her time, energy and sewing skills to making 120 stockings for Children's patients who find themselves in the hospital during the Holidays. The stockings are then filled by nursing members who pick out personalized gifts collected by Child Life Services for every patient that will be waking up at the Children's on December 25th. Vivien's project is a quarter century labor of love that takes well over 2 months to complete, requiring cutting, sewing and assembling from start to finish, with many of the details being hand-sewn.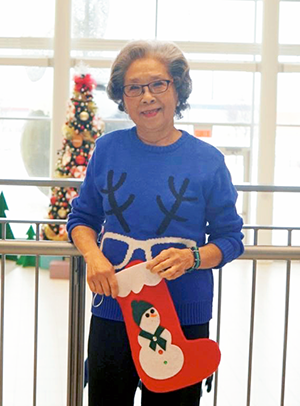 This year, she has decided, will be her last, given the volume of work required. But her trademark snowmen and abounding generosity have touched thousands of patients, families and staff members and won't be soon forgotten.
Her philosophy is simple, she says. "I always want to be helping people. It's what makes me happy. And when you're happy, others will feel too. It's a very nice thing to do at Christmas time." As a type 1 diabetic for many years, Vivien says she felt even more motivated to give back to others while she had the opportunity to. "I figure sooner or later I will need someone to help me," she explains. "And when that time comes, I hope I'll be able to receive it, knowing I've been able to do this work."
A big supporter at the MUHC
Vivien also has a personal connection to the McGill University Health Centre. Her grandson, Brendan Timmins, is a nurse clinician working in Cardiac Surgery on D7 at the Royal Victoria Hospital, and one of her biggest supporters, along with his mother, Fiona. He says his grandmother's outlook on life is exceptional, and her commitment to this project is inspiring.
Please join us in thanking Vivien for her abounding kindness and generosity every Holiday season for the past 25 years and more.