Volunteers play an integral role in the MUHC, helping patients, visitors and staff in a number of ways.
Volunteering is one of the great MUHC traditions. Volunteers have assisted patients and their families and supported staff since our hospitals first opened their doors nearly two centuries ago. Without them, the MUHC would simply not be the same.
Each year, hundreds of exceptional people volunteer across the MUHC, giving their time and energy to help in almost every area, from inpatient wards and emergency rooms to coffee shops and information desks. They are the many faces of a caring community, and they bring hope and comfort to everyone with whom they interact.
| | | | | | | |
| --- | --- | --- | --- | --- | --- | --- |
| Irma | Nan | Richard, Ray and Roy | Louise | Linda and Delores | MGH volunteers | RVH Volunteers |
Listening to patients and their families
"Listening to the patients and families we serve is the only way to respond effectively to their needs," says Nevine Fateen, manager of Volunteer Services at the Royal Victoria and the Montreal Neurological hospitals and the Montreal Chest Institute. "For example, the Coffee Break pilot program was created this year to respond to the needs of patients in isolation. Volunteers visit to alleviate loneliness, offer companionship and to run simple errands. The program is so popular that we plan to expand it to other units as soon as volunteers have received the special training they need to deal with isolation issues."
This year, Volunteer Services also extended its music program to the Montreal Chest Institute and its diversional program to the Allan Memorial Institute, using students in leadership roles.
The Montreal Children's Hospital Volunteer Services offered a two-hour "Reading to Children" workshop, moderated by retired librarians, which was attended by 30 volunteers. Participants learned how and what to read to children of all ages. A special section focused on reading to infants – a third of our hospitalized population.
Volunteers at the Lachine Campus last year organized over 300 group activities and accompanied patients on excursions outside the hospital to shop or just to enjoy a few minutes in the park. The Lachine volunteers lend a hand in many areas, including the Emergency Department and the cafeteria. They also organize fundraising activities, distribute mail and even help put up seasonal decorations. "Volunteering at a hospital requires patience and generosity," says Louise Lévèsque, who has been volunteering at the Lachine Campus for seven years.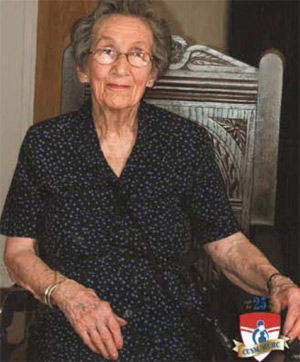 Lou, 101 years young and still volunteering at the MUHC
In the past year, as they do every year, the hospital auxiliaries made outstanding contributions to support staff and improve the lives of patients. The auxiliaries raised money to fund projects and purchase medical equipment in numerous areas, including women's health, cardiac surgery, nuclear medicine, nursing, social services, psychiatry and physiotherapy, as well as various wards, waiting areas and family rooms across the MUHC.
At The Montreal Children's Hospital, the auxiliaries provided support for the Literacy Promotion Program, the Intensive Ambulatory Care Service, the Family Resource Library and the Research Institute of The Children's.
Friends of The Neuro also continued its great tradition of fundraising, which involves supporting patients and their families, purchasing hospital equipment, funding bursaries and supporting the Neuro Patient Resource Centre. Volunteers on the Greeting Committee continue to visit each new patient and offer a variety of personal items and reading material. Members of the Users' Committee work to improve facilities and quality of life for patients, such as ensuring equal access through the installation of ramps and providing funds for patient information pamphlets.
Canadians across the nation learned what a difference volunteers can make. CTV National News aired the story of Linda Chernin Rosenblatt – a CanSupport volunteer at the Montreal General Hospital who hosts a tea party every Tuesday in Oncology.
To prepare for this event, Linda spends her entire day each Monday baking mouth-watering cookies, cakes and desserts, which are served on fine china to patients, their families and staff. Thanks to CTV's coverage, cancer support organizations in Connecticut and Toronto plan to organize similar events in their local hospitals.