National Pain Awareness Week 2015 : November 1 - 7, 2015
Pain is the most prevalent complaint on earth. "People suffer from back pain, joint pain, pain from cancer, neuropathic pain and any number of other pain syndromes," says Dr. Yoram Shir, director of the Alan Edwards Pain Management Unit (AEPMU) of the McGill University Health Centre (MUHC). "And as life expectancy grows, this will affect more and more people."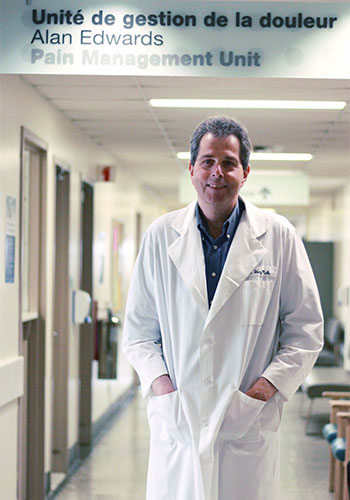 One in five Canadian adults lives with pain on a daily basis. The condition affects more than 50 per cent of the elderly population and more than 80 per cent of those living in senior homes. Besides its considerable physical, social and psychological impact on patients and their families, chronic pain also imposes huge economic costs on society. In Canada, between $56 and $60 billion are spent annually in healthcare resources and lost productivity (based on days of work missed, hours of work lost, and lower wages).
In the Pain Management Unit, Dr. Shir, who is also a researcher and professor of Anesthesia at McGill University, works with a multidisciplinary team of physicians, nurses and other healthcare specialists to address the complex physical and psychosocial aspects of chronic pain. At the moment, he says, the vast majority of efforts and activities to fight chronic pain are dedicated to palliation or easing symptoms. Even if there are no effective means of preventing all types of chronic pain, in some instances prevention is achievable. 
"Vaccination against zona [shingles] for people over 55 years old could decrease the development of chronic pain by two-thirds once the acute episode has happened. And some medications can reduce the incidence of chronic postsurgical pain. Additionally, a pain specialist in emergency rooms could help lessen the chances for chronic pain following a trauma." 
As part of his research, Dr. Shir is studying ways to optimize triage – the process of assorting patients according to a system of priorities – to improve treatment outcomes. 
The MUHC Alan Edwards Pain Management Unit
at a glance
Founded in 1976, The Alan Edwards Pain Management Unit (AEPMU), located at the Montreal General Hospital of the MUHC,  is an important multidisciplinary treatment centre for chronic pain patients in Quebec.
The clinic receives close to 7,000 visits annually and delivers care to patients with post-traumatic, post-surgical, musculoskeletal and visceral pain*. 
The Clinical Research Unit carries out studies and initiatives in pain research, including the development of new treatments and pain management approaches. 
The AEPMU is generously supported by the Louise and Alan Edwards Foundation.
"A few months' gap between a referral and a first appointment can determine whether a patient will get better or not," he explains. "During this waiting period patients can become depressed or stop working. Once patients quit their jobs because of pain, their chances to resume work decrease considerably if they stay off work more than few months."
The idea is to "catch patients" early to improve their chances of curing their pain. Another step towards reaching out for patients would be the establishment of pain clinics across the province. Some initiatives are already in place, he says.
"In Quebec, there are now four primary care, multidisciplinary clinics caring for patients with sub-acute low back pain, and that is a great first step. It shows it can be done, but it's only a drop in the ocean." 
Dr. Shir and his colleagues are working towards encouraging more pain management training for McGill University students and MUHC residents, senior physicians and the clinical community at large. 
"More than 70 per cent of the patients we see in the unit could be treated in community clinics if more efforts were made to create awareness about chronic pain management at this level."
According to Dr. Shir, a crucial part of the fight against chronic pain is getting patients to become actively involved in their treatment. "Success is always more achievable when they are part of the healing process."
* Cancer patients with pain are mainly treated at the Cancer Pain Clinic at the Glen, run by palliative care, oncology and AEPMU teams.