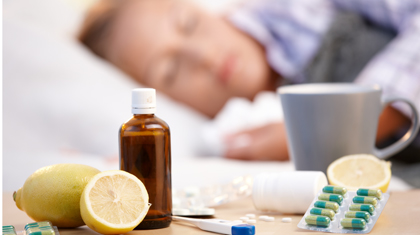 Fever, aches and pains, stuffy nose, sore throat, coughing and sneezing—most of us are all too familiar with these signs and symptoms, especially at this time of year. Experts at the McGill University Health Centre (MUHC) are reminding the public that the best way to avoid the most severe of these viral infections is to get the flu vaccine before the season kicks into high gear, which happens to be right around the holidays.
Every winter, as many as one in four Canadians get the flu. Typical symptoms, such as mild to moderate fever, sore throat, muscle aches and pains, as well as coughing and sneezing, can often be treated at home with plenty of fluids and lots of rest. However, if you think you should see a doctor, some good alternatives to the Emergency Department, where wait times can be long, are CLSCs and local clinics. They offer walk-in services for seasonal flu.
Flu shots are administered at your local CLSC or doctor's office from the beginning of November. In Quebec, the seasonal flu shot is available free of charge for children and adults who are at increased risk of more severe infections and complications. These groups include infants between the ages of six to 23 months old, the elderly, pregnant women, and individuals with chronic medical conditions.
If your child has a fear of needles, a new vaccine called Flumist®, administered by a nasal spray, is another available option. This vaccine is available from your local health practitioner or pharmacy, but is not subsidized by the government unless your child suffers from particular chronic conditions.
"A lot of people believe the flu shot can give the flu," says Dr. Charles Frenette, MUHC medical director of Infection Control. "It is, in fact, impossible as the injectable vaccine is a killed virus. You may get a mild fever, some soreness at the injection site but these are really minor compared to the real thing. Or you may have, coincidently or subsequently, a cold virus that circulates at this time of the year. By getting the flu vaccination, you will protect yourself and protect others by breaking the chain of transmission."