Responding to Emergency Needs for the Benefit of the Patient
The flu season was particularly harsh this year at the McGill University Health Centre (MUHC), often leaving patients with long waits in the Emergency Department as the staff dealt with the immense pressure of its overcapacity status.  Everyone knew a solution was needed. Thankfully, on January 24, nursing leadership was made aware of relief in the form of secured funding to open an unité de débordement.
With the help and support from senior nursing leadership, Nurse Manager Aparna Bhattacharjee immediately put a plan in motion to open the temporary beds in the C9 North pod at the Glen site for this patient population. This pod had been silent for some time and needed a great deal of logistical support to be reactivated. And it needed to be done quickly.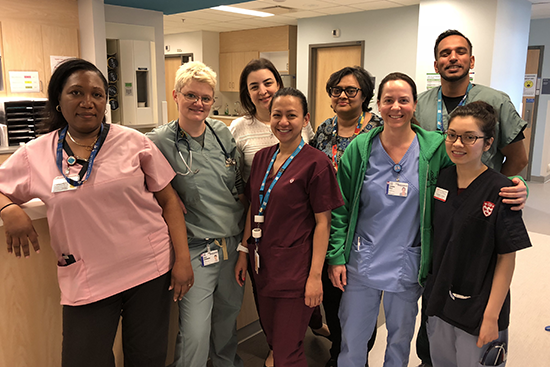 In addition to getting the unit physically functional, a great deal of extra human resources would be needed. Aparna called on C9 Assistant Nurse Manager Pouneh Mohanna to adjust the schedule to reflect the extra needs of the unit. It was decided the unit would open 12 beds, which would require two extra nurses, 24 hours per day, seven days a week with extra PAB support.
The execution of the plan started at 5 p.m. on a Wednesday night and the pod was set to open to patients by 7:30 a.m. Friday morning the same week.
With so little turnaround time, it was decided the pod would be staffed by nurses experienced in Internal Medicine with knowledge of the unit. Right away, the unit had a very rapid patient turnover rate and a highly charged workload. Would these nurses be willing to work overtime to meet these new needs? How would this new request be received? Better than anyone could have expected.
 Within hours of receiving this extraordinary request, nurses Margareth Vernet, Diane Vienneau, Deepika Patel, Herman Souffo and Marthe Jacques all willingly postponed their vacations to be there for this patient population.
 "My reaction was automatic. They needed us," Margareth remembers. "There's a real family spirit here. We were able to make an impact and open a new department for patients rather than have them waiting in the hallways of the ED. This helped the ED, the patients, the families – everyone benefits."
 In total, approximately 60 nurses and part-time employees – people who had previously worked on the unit and people from other units – answered the call and came forward to offer their services. The effort falls into the MUHC's 2017-2020 Strategic Orientation goals of rallying an engaged organization to showcase dynamic and inclusive community which values a diverse, interdisciplinary and collaborative work between colleagues. The Strategic Orientation Goals looks to develop a culture that is ready to mobilize in the face of great transformation and change without effect to patient care.
 "What impressed me was the response was so quick and without hesitation. We just did it.
There was no one saying 'This cannot be done'. There was never pessimism," Aparna remembered. "Do you know how awesome that is?! People responded to patient care. They responded without coercion. The nurses knew there was a need and they filled that need."
 Nurse Marc-Antoine Guy felt the professional working environment was a strong reason for its ability to pull together so quickly in so little time.
 "It did stretch our resources. But we managed to do it thanks to everyone coming together," the 28-year-old student said. "I like my job – that's important. And I'm in a situation where I can help. I don't have major responsibilities at home in my personal life, so I have the time and the will to do it."
 While the nursing staff responded, so too did other essential services. Security was quick to sweep through the unit; IS set up the network; Housekeeping and Laundry prepared the rooms and stocked the linen, while Pharmacy filled the pod with medication. Unit Coordinator Clara Pietrangelo was charged with the task of stocking the North pod with day-to-day essentials.  Materials Management employee Luc Lebrasseur stayed overnight on Thursday to stock the pod with the supplies and to ensure everything needed was on hand when the first patient was brought in on Friday, January 26. In all, team members from the departments of Logistics; BioMedical; Technical Services; and the Nursing Resource Centre all contributed to get the unit ready.
 Every bed was always filled, except for when nurses were walking the hallways with patients, who are always welcome to listen in on the weekly safety huddles where staff discuss trends, issues and review their efforts to improve the unit. Employees from Quality, Nursing and Housekeeping were listening in on a recent huddle, asking questions.
 "What really stood out for me was the nursing staff how caring and efficient they were," said patient Nick Messina, who spent an "amazing" week in the unit because of the flu. "I did many blood tests and the nurses and doctors kept me updated on all the results. The cafeteria staff even came to see me to explain the menu and choice of food options, which was very good!"
 Aparna watched on with pride as they prodded her team on their thoughts on infection control and patient and workplace safety, knowing this endeavor had proven the MUHC's ability to respond to the changing needs of health care.
 "This was an exercise in resilience and team effort," said Aparna. "And we succeeded."