New appointments at the Research Institute of the MUHC
Two new Deputy Directors
Congratulations to Dr. Indra Gupta and Dr. Louise Pilote, who will become Deputy Directors of the Research Institute of the McGill University Health Centre (RI-MUHC), effective January 4, 2022. These nominations follow a competitive selection process.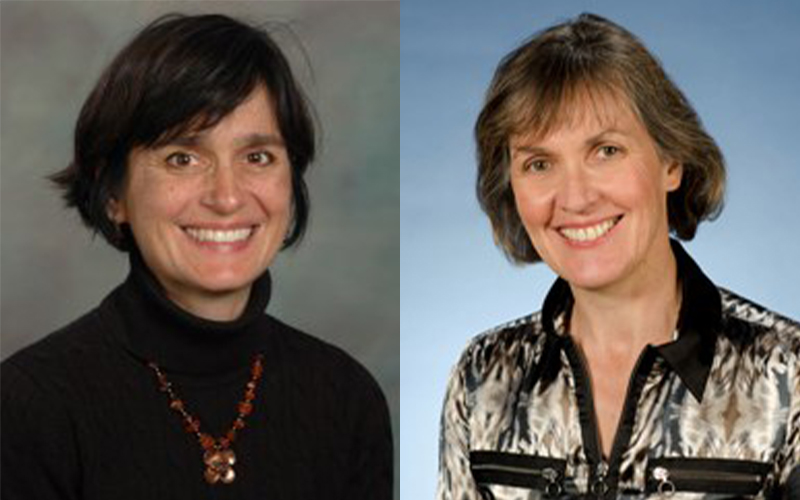 Indra Gupta, MD, is a Professor in the Department of Pediatrics and Division Director for Pediatric Nephrology at the Montreal Children's Hospital (Interim). She is a senior scientist in the Child Health and Human Development Program at the RI-MUHC, conducting research as part of the Centre for Translational Biology. She has been the Interim Director of Child Health Research and Interim Associate Director of the RI-MUHC since September 2018. Dr. Gupta directs nationally and internationally funded research projects that focus on understanding how congenital kidney and urinary tract disorders arise in children. She has worked closely with the Montreal Children's Hospital Foundation. Dr. Gupta has strongly supported early career researchers by developing mentoring and peer-review programs.
Louise Pilote, MD, MPH, PhD, is a Professor of Medicine at McGill University, and holder of a James McGill chair. She is a general internist, cardiovascular epidemiologist and an internationally recognized scientist studying sex and gender in cardiovascular disease. Dr. Pilote is a senior scientist in the Cardiovascular Health Across the Lifespan Program at the RI-MUHC, conducting research as part of the Centre for Outcomes Research and Evaluation. She has held her RI-MUHC appointment since 1995. Dr. Pilote is a leader in women's cardiovascular health research and a pioneer in comparative effectiveness research of cardiac drugs and devices with a focus on sex differences using Big Data. She has developed and tested novel methodologies for measuring gender to evaluate its impact on health outcomes and on diagnosing microvascular dysfunction in women. As Director of the McGill and MUHC General Internal Medicine division for a decade, Dr. Pilote has successfully mentored numerous junior faculty members, some of whom are now successful researchers at the RI-MUHC.
"Drs. Gupta and Pilote both have exceptional leadership experience. As Deputy Directors, they will work closely with me to develop and implement strategic direction, to grow research excellence, and to attract the best recruits. They will support training, development and mentoring programs and will be ambassadors for our organization on the local, national, and international stage, building and expanding bridges between the RI-MUHC, McGill University and other stakeholders," says Dr. Rhian M. Touyz, Executive Director and Chief Scientific Officer of the RI-MUHC.
A new Chief Operating and Development Officer
Mr. Gilbert Tordjman was appointed Chief Operating and Development Officer (CODO) of the RI-MUHC.  He will join the RI-MUHC as of January 17, 2022. 
A Chartered Professional Accountant, Mr. Tordjman has held numerous executive level positions in major academic and hospital institutions. He was most recently Vice President – Finance and Administration at the Montreal Clinical Research Institute (IRCM), and Treasurer of the IRCM Foundation. Before that, he served as Executive Director of the Development and Alumni Relations Office at Concordia University. Other past roles include Vice President - Administrative Affairs with the Fonds de recherche du Québec – Santé (FRQ-S), Director - Finance and Administration at the Montreal Children's Hospital Foundation, and head of Financial Management at the Lady Davis Institute for Medical Research at the Jewish General Hospital.
In addition to his impressive professional career path, Mr. Tordjman is a committed volunteer. He is the past Chair of District 1 of the Council for Advancement and Support of Education, which covers the northeastern region of the United States and eastern Canada. He was until recently a member of the Board of Directors of Federation CJA, where he received the Gertrude & Henry Plotnick Young Leadership Award.
Mr. Tordjman's expertise will allow him to work collaboratively to develop an inclusive plan to maximize the economic and social impact of research projects at the RI-MUHC.
Mr. Tordjman will be responsible for the oversight of overall operations and the coordination of research initiatives in collaboration with industry, financial and government partners. His mandate will include a range of innovative, value-added activities to support our researchers in the development of commercial opportunities stemming from their discoveries.