Three tents to expand care at Lachine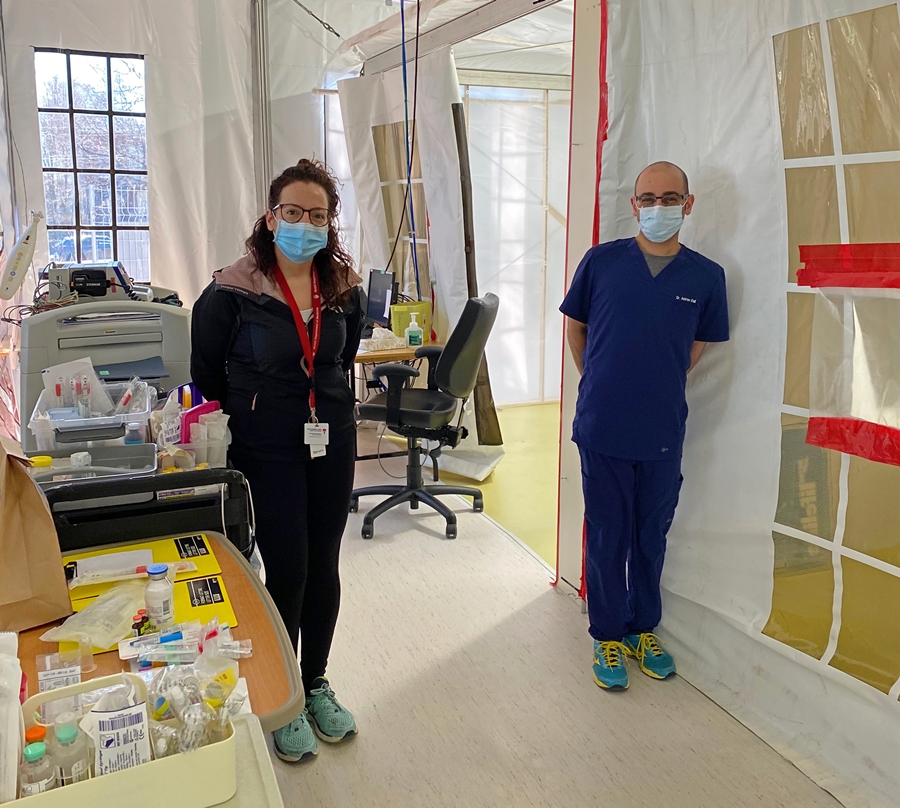 During the COVID-19 pandemic, the Lachine Hospital was designated by the McGill University Health Centre (MUHC) as a non-COVID site. Its mandate is to provide continued emergency response for the community as well as ward and intensive care to non-COVID patients. To meet this crucial goal, three kinds of tents were installed on the grounds of the Lachine Hospital to expand care.
First, the Resuscitation Tent is equipped to provide care for up to two critically ill patients requiring resuscitation, while ensuring that all necessary COVID precautions are taken. Next, the Medical Ward Tent can safely accommodate up to eight patients. Finally, a Filtering Tent can tend to outpatients and staff who require COVID swabs. All tents are supplied with critical care equipment (such as ultrasound machines, portable chest X-ray machines, and oxygen tanks), patient vital sign monitoring, nursing work stations with computers, High-efficiency particulate air filters (HEPA), heating, and personnel protective equipment. This initiative alleviates pressure at our downtown sister hospitals, the Montreal General Hospital (MGH) and Glen site, by making it possible for COVID-negative patients to be transferred to Lachine. 
The Lachine Resuscitation Tent and the Filtering Tent can be accessed through the Emergency Department (ED) at the Ambulance Entrance. 
This vital project could not have been possible without the leadership of our Installation Teams, Nursing Leaders and Educators, Inhalation Therapists, Infection Control, Technical Services, Biomedical, Pharmacy, Housekeeping, Critical Care, and Emergency Medicine Physicians.
Nicole Ezer, MD, FRCPC, MPH
Associate Directors of Professional Services- Lachine Hospital, MUHC
Resuscitation Tent at the MGH adds capacity to ED and Trauma