MUHC and CISSSO thoracic surgery teams win a Prix de cancérologie 2022
The MUHC thoracic surgery team has won a Prix de cancérologie 2022 in the category Organisation des Services for a project done in partnership with the Centre intégré de santé et de services sociaux de l'Outaouais (CISSSO). The MUHC and the CISSSO worked together for nearly three years to establish a virtual platform that tracks every stage of a patient's trajectory between the Outaouais region and the MUHC for the purpose of thoracic surgery.
"This is a complex patient trajectory, supported by a strong and secure virtual platform," describes Carole Lapierre, associate director of the MUHC Partnerships Office who oversaw the project. "We're quite proud of this award from the Programme Québécois de cancérologie (PQC) because it reiterates that what we have done is about more than just IT. It's also about care improvement within a network of cancer care."
Indeed, every year, between 200 and 250 people from Outaouais make the journey to the MUHC in order to receive thoracic surgery, and in most cases, those surgeries are needed in relation to cancer care.
"It's quite unusual for two institutions of this magnitude to collaborate in the way that we did," explains Carole. "We had two completely different IT realities, with Outaouais being paper-based and the MUHC having electronic patient charts. We came together and could optimize a patient care trajectory by clarifying roles and responsibilities and integrating a platform that automates multiple processes and secures data."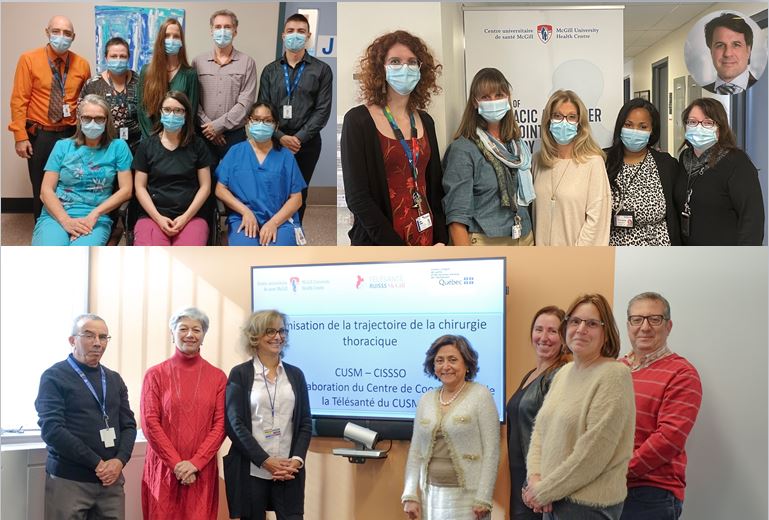 Years in the making
The need for a web-based platform came up years ago when Lucy Tardif, clinico-administrative coordinator of the MUHC's Cancer Care Mission at the time, saw the potential for miscommunication to occur between Outaouais and the MUHC. Back then, everything was done by paper, faxes and phone calls including updates to patient files. Many times, it was difficult for both institutions to stay on the same page regarding a patient's trajectory. This needlessly complicated the planning process of surgery.
"We have seen the fruits of our labor," notes Elodie Cornier, the project manager for the MUHC. "There's been a significant improvement in the flow of information and now, no patient coming to us from Outaouais will fall through the cracks. Their information is accurate, updated, and it's safe."
This virtual platform was made possible thanks to the clinical teams' hard work, to the extensive support from the Centre de Coordination en Télésanté du Réseau Universitaire intégré de santé et services sociaux (RUISSS) McGill, the Université du Québec en Outaouais (UQO) and the firm Akinox. In addition, MUHC thoracic surgery division chief Dr. Lorenzo Ferri was an amazing support to both institutions over the course of this project.
"This has had an incredible impact on the care of thoracic surgery patients from the Outaouais region," says Dr. Ferri.
In addition to receiving an award from the PQC, project leaders were given the opportunity to present their project at this year's PQC's Congrès virtuel. As they shared the story of how this platform came to be, and all of the advancements that it has caused, they proudly represented our thoracic surgery teams at the provincial level. Bravo!