Vaccinating patients is a success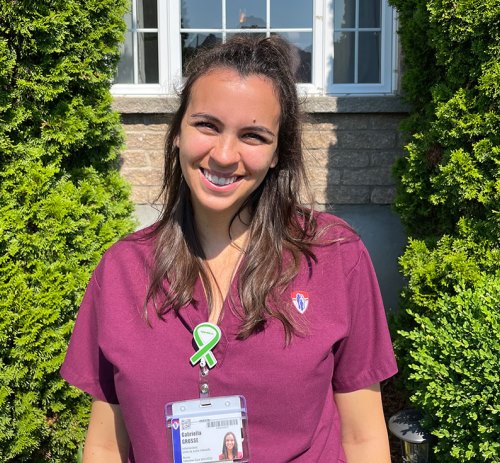 We want to give a huge shout out to the amazing team who's been organizing the vaccination of inpatients, including Gabriella Grosse, Valerie Ann Laforest, Marie-Eve Leblanc, Alain Biron, and many hardworking MUHC nurses. Thanks to their efforts, inpatients are being vaccinated in a smooth and timely manner, which is a much-anticipated relief for them and their families.
"The feedback from patients and nurse managers has been really positive," says Gabriella, who's worked as a bedside nurse for the past nine years including in the ICU. "This project is different from anything I've ever done before, and I feel really grateful for the opportunity to work on something like this."
Vaccination began this spring with alternate level of care (ALC) patients, who are defined as those who aren't in a critical state, but who occupy a hospital bed; often, they're waiting for placement at a rehabilitation centre. Organizing their vaccination appointments has been a rewarding challenge for all involved, and in recent weeks, the team has set their sights on vaccinating all patients of all ages and chronic conditions, including patients at the Children's.
"From the time that I'm given a patient's name to the time that they're vaccinated, it usually takes about 24 hours," says Gabriella, who communicates everyday with nurse managers to organize the logistics for these important appointments. "It happens very quickly!"
Our patients are so happy to be vaccinated, and we thank all members of the MUHC vaccination crew for making it happen!