I-CCAN service for patients with complex needs wins Prix d'excellence honour
MONTREAL, May 30th 2022 - A 'concierge' service for patients with intermediate-complex care needs from the Montreal Children's Hospital (MCH) received an honorable mention at the prestigious Prix d'excellence du réseau de la santé et des services sociaux in the Intégration des services category.
The Intermediate-Complexity Coordination and Navigation (I-CCAN) service is offered to patients aged 0 to 18 years who require intermediate-complex medical care and who are followed on a long-term basis by at least three MCH ambulatory services. A care coordinator is responsible for centralizing access to care and resources, and streamlining service planning. Among other things, this person arranges appointments according to the family's schedule and verifies that ultrasounds, blood work and other tests are done.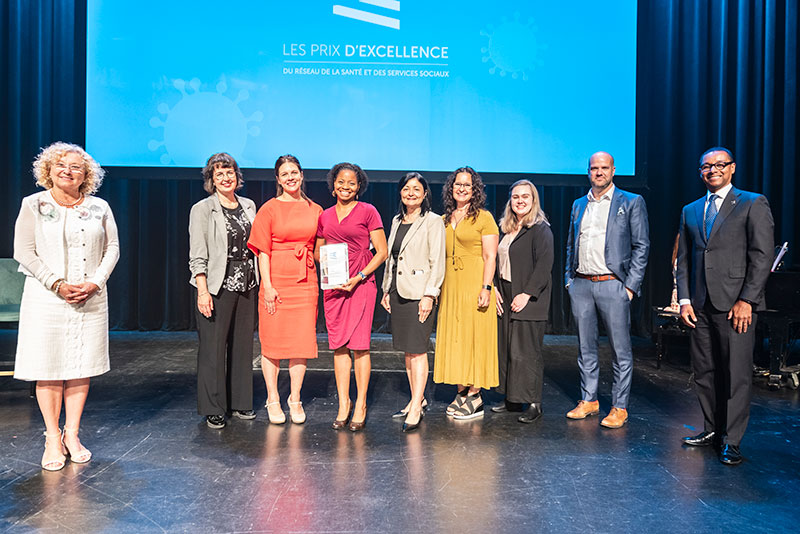 Each family is unique and comes to the MCH with different challenges. Perhaps they live 10 hours away or are caring for other children. With the I-CCAN service, there is no more going back and forth to the hospital several times a week. Appointments are coordinated so that everything can be done in one visit, whenever possible. The goal is to facilitate medical care.
"The I-CCAN team is very proud to be the recipient of one of the MSSS' Prix d'excellence. The I-CCAN initiative puts families back at the centre of their care management, optimizes the use of existing services, promotes interprofessional collaboration and encourages preventive interventions. In this way, we aim to transform the organization of healthcare for children with complex care needs. It is more than exciting that this integrated care model is being recognized by the senior management of the MSSS," says Dr. Sara Long-Gagné, a member of the team that developed I-CCAN.
A promising future
With the success of Phase 1, the I-CCAN service is already expanding. Phase 2 started in 2022. The creation of a permanent position of care coordinator and nurse practitioner who provides medical care makes it possible to handle consultations and medical follow-ups for nearly 300 patients.
Nurse practitioner Laurie Cléophat, supported by a team of doctors at the MCH, acts as an "orchestra conductor" to put the family's needs/priorities first, works with all involved health professionals and coordinates health services to achieve the best outcome for the child.
The ultimate goal is to give children with intermediate-complex care needs top-quality care whether it is provided in the hospital, the doctor's office, at school or by a private sector health provider.
"Laurie, the I-CCAN nurse, is the best. I email her with all of my questions, concerns, and doubts. She always answers right away. She directs me to different services for help. Plus, if she doesn't know an answer, she finds it and calls me back," says Marion Merifield. Marion is the mother of Madeleine, 2 years old, who benefits from the service.
"The I-CCAN coordinator, Laura, is a tremendous help. She organizes Madeleine's medical appointments, so we don't go to the hospital multiple times a week. She also knows it is easier for me when doctor's appointments and medical tests are in the afternoon. I am so grateful for the entire I-CCAN team. When you have a child with multiple ailments, like Madeleine, it is a relief to have people who know the healthcare system inside and out, and who know your child's medical history from cover to cover."
Donations to the Montreal Children's Hospital Foundation, including from Opération Enfant Soleil, have funded the I-CCAN service.