Teaching, Learning and Collaborating at the Glen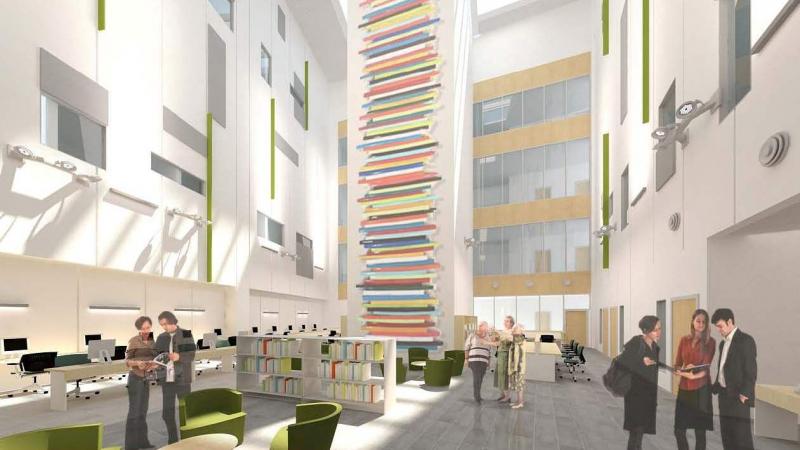 As an academic health institution one of the missions of the McGill University Health Centre's (MUHC) Glen site is to teach the next generation of health care professionals and provide the necessary spaces for their learning. It is for this reason that the planners, architects and clinical advisors involved in the detailed design of the hospital made sure to include dedicated teaching and study spaces for interns, residents and fellows, encouraging not only study, but observation and collaboration between disciplines.
Despite the challenges that were met when trying to integrate all the desired needs of our community, planning and design teams have been successful in creating different types of teaching areas that will allow for a range of activities to occur. As a result of their diligent work, the Glen will have a total of 150 meeting/teaching spaces, an amphitheatre located in the Research Institute that can accommodate up to 200 people and several workstations and team rooms. MUHC professionals will also be able to take advantage of a large hotel-style conference room located inside the new Shriners Hospitals for Children® - Canada that will have the capacity to seat over 200 people.
In addition, students, professionals and even patients and their families will have access to two health information resource libraries: one will be located in the Royal Victoria Hospital and Montreal Chest Institute area, the second in the Montreal Children's Hospital. Both libraries will be warm and welcoming spaces filled with light where people can go to work quietly or do research. A special section at the back of the library in the adult section of the Glen will be reserved for residents and doctors. They will be able to take advantage of a quiet area outfitted with workstations and Wi-Fi to work and study. This library will also be directly adjacent to a classroom. Level S1 of the Cancer Centre will also house a Medical Physics and computer lab and library, for our Medical Physics students following our prestigious Medical Physics training program – one of only two in North America.
With such a variety, our people will be able to easily meet, learn from one another, hold teaching sessions for interns and residents and ultimately expand their knowledge to be able to continuously provide cutting-edge care.
The Collaborative Café: an innovative use of space
The Collaborative Café is an example of the innovative use of space our planning teams and clinical advisors are realizing. Located on level two of the Cancer Centre, the café will be a space where health professionals who work in the Cancer Centre can gather.
Envisioned as an airport style lounge, it will have the capacity to seat 84 people, have a coffee bar, work stations with access to Wi-Fi, industrial fridges for lunches and several windows that will provide natural light and allow staff to look out to the garden. The café can be used for several different functions from conferences to informal teaching sessions to fundraising events.
This space will enable professionals from different fields to meet regularly in a casual atmosphere, thus encouraging multi-disciplinarity and the exchange of information and ideas.