The Lachine Hospital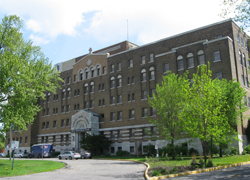 Lachine Hospital
650 16th Avenue
Lachine, Quebec
H8S 3N5
514 934-1934
Since its founding in 1913, Lachine Hospital has had a rich history of providing excellent healthcare services to the community. As part of the McGill University Health Centre (MUHC) since 2008, Lachine Hospital patients experience the comfort of a community-based hospital environment, while benefiting from the resources of one of the world's foremost academic health centres.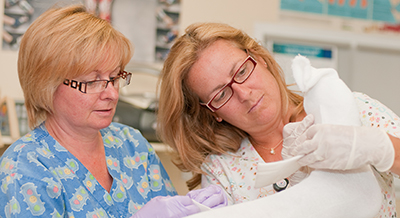 With specialty mandates in geriatric medicine, bariatrics, and ophthalmology, Lachine is also connected to the Camille Lefebvre long-term-care pavilion, which offers 134 single-patient rooms including 20 long-term-respiratory patient beds.
Lachine Hospital has recently undergone an expansion to modernize the Emergency Department and install the first MRI in Quebec's public sector suitable for claustrophobic and morbidly obese patients. In the fall of 2015, it will also become the home of the Royal Victoria Hospital's dialysis program, welcoming it into a newly-renovated section of the hospital that meets the needs of this patient population.
Emergency Department

Open: 24 hours a day, 7 days a week

Contact: (514) 934-1934 x77100
All services and departments currently offered at Lachine Hospital will remain the same.
Services offered in 2015

Medecine

Cardiology

Hematology
Ophtalmology

Critical Care

Infectious Diseases
Pneumonology

Emergency Medicine

Internal Medicine
Rheumatology

Gastroenterology

Neurology
Palliative Care

Surgery

Bariatric Surgery

Foot and Ankle Surgery
Otolaryngology Surgery

Cataract Surgery

General Surgery
Urology Surgery

Critical Care

Plastic Surgery

Ambulatory Services

Audiology

Geriatric Day Hospital (until summer 2015)

Physiotherapy

Endoscopy

Hemodialysis (opening fall 2015)

Pulmonary Function Tests
(Inhalation Therapy)

Day Medicine

Medical Imaging




Camille Lefebvre Pavilion

Long-term Care
Long-term Respiratory Patient Program
Helpful Information
The hospital entrance is located at 650, 16th Avenue in Lachine (corner of Rue St-Antoine).

Directions to the hospital
Metro/Bus
Get off the metro at the Lionel-Groulx stop. Take the 191 bus to the corner of Provost and 16th Avenue. Walk down 16th Avenue.
For more information on public transportation call 288-6287, or dial 514-AUTOBUS. You may also consult the STM web site at http://www.stm.info.
Car
From Autoroute 20, take the 32nd Avenue exit. Take 32nd Avenue to Provost. Turn left on Provost and then turn right on 16th Avenue.
Parking
You can park by entering at the St-Antoine entrance parking lot. People who regularly come to visit a patient hospitalized in the palliative care unit can obtain a monthly parking pass at a reduced cost (contact Technical Servicesat 514 934-1934 x77001).
Access for limited mobility
People with a vehicle displaying a Disabled Parking Permit can park in the spaces reserved for that purpose in the visitor parking lot located near the emergency entrance on St. Antoine Street.
Lachine Hospital