President and Executive Director, MUHC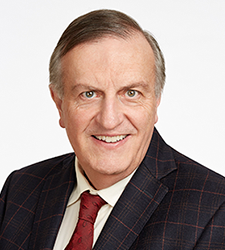 Pierre Gfeller has built a dynamic career in health care over nearly 40 years that includes a host of roles and accomplishments, which have been recognized by peers and decision-makers in the Québec health and social services network alike. From his start as a family physician to his evolution as a senior executive, improving the quality of care has been the thread that pulls him from one opportunity to the next. At ease reorganizing institutions and services, he has become known for his mobilizing leadership style and results-oriented approach, each of which has been instrumental since he was appointed President and Executive Director of the McGill University Health Centre (MUHC) in May 2018.
From the get-go, his overarching objective at the MUHC has been to help the organization perform at the highest level. Pivotal to his vision are exemplary governance and teamwork; a respectful, stimulating, safe and ethical workplace; innovation and excellence in all aspects of its mission; and stakeholder engagement.
Dr. Gfeller possesses a strong belief that if solid infrastructures are the requisite foundation for the delivery and teaching of health care, as well as the conducting of research, then people are the cornerstones to success. With that in mind, over and above stewarding projects to modernize physical space, technology and equipment at the MUHC, Dr. Gfeller has sought to ensure that talented experts are positioned in key clinical, administrative and research positions. With respect as one of his core values, he wants to see equity, diversity and inclusion become second nature to employment practices, but also to relationships with the patient population. He has also dedicated the last couple of years to strengthening university, foundation and community relations.
Dr. Gfeller holds a non-remunerated appointment in the McGill Faculty of Medicine and Health Sciences, notably that of Adjunct Professor, (part-time, clinical) in the Department of Family Medicine. He is also President of the McGill University Integrated Health and Social Services Network (RUISSS McGill). In this capacity he works with the Ministry of Health and Social Services and regional partners to improve continuously essential services to designated communities across 63 % of Québec. An example of an important program launched by RUISSS McGill includes the Indigenous Affairs Committee to develop projects and make recommendations to foster cultural safety within partner organizations servicing Indigenous people.
Before joining the MUHC, Dr. Gfeller was President and Executive Director of the Integrated University Health and Social Services Centre (CIUSSS) for the Nord-de-l'Île-de-Montréal sector, where he oversaw the successful integration of hospitals, specialized clinics, long-term-care centres (CHSLDs), and local community service centres (CLSCs) from 2015 to 2018. He was also responsible for the recruitment of a strong and diverse management team, while balancing the budget. Between 2012 and 2015, Dr. Gfeller was Executive Director at Sacré-Coeur Hospital. Among other achievements, he is proud to have helped restore a positive work climate and improve quality standards such that accreditation was granted in 2014 without any conditions. Previously, he served in both consultancy and management capacities after practicing medicine, as a family physician, from 1981 to 2002.
Pierre Gfeller earned his Doctor of Medicine and Master of Surgery (MD, CM) from McGill University (1980), and holds a graduate degree in community health from Université Laval (1986), an Executive MBA from Université Paris-Dauphine (2000) and a MBA with honours from Université du Québec à Montréal (2000). Over the years, he has obtained certifications from the Medical Council of Canada (1980), Diplomate of the National Boards of Medical Examiners (1985), and the Canadian College of Family Physicians (CCFP, 1987), and Québec Specialist in Family Medicine from the Collège des médecins du (2010). Dr. Gfeller is fluent in English and French.