Psychosocial Services

For patients and their loved ones, the battle against cancer is fraught with emotion. Feelings of defeat, anger, sadness, guilt and anxiety are natural. Attitude is an important aspect of the energy needed to fight and persevere against this disease. To respond to this, the McGill University Health Centre has created a program to address the psychosocial needs of patients and their families. See the Psychosocial oncology website for more information.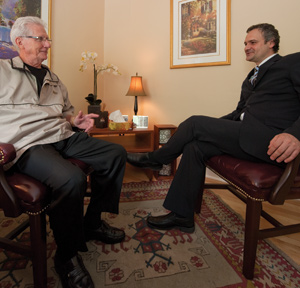 Established in January 2008 under the direction of Dr. Marc Hamel, the Psychosocial Oncology Program benefits from the experience and expertise of a team of psychologists, psychiatrists, social workers and nurses who specialize in helping cancer patients. Each member of the interdisciplinary team is ready to listen and empathize, to help patients mobilize their resources, and provide them with the tools and strategies they need to rise to the challenges that come with cancer.
Among the services provided to ambulatory cancer patients and their families are screening for distress, psychological and psychiatric consultations, brief individual, couple and family therapy, and grief counselling. Thanks to a standard triage process, individuals requesting psychosocial services are contacted by telephone within 48 hours.
Other activities of the Psychosocial Oncology Program include continuing education workshops for professionals, presentations at national and international conferences, and clinical training of doctoral students. The Psychosocial Oncology program of the MUHC participates actively with Cedars CanSupport on an ongoing basis.