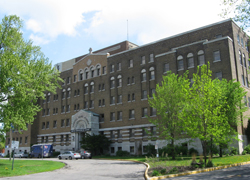 The hospital address:
The Lachine Hospital
650 16th Avenue
Lachine, Quebec H8S 3N5
In 2008 the Lachine hospital and Camille-Lefebvre Long-term Care Centre became the Lachine Hospital of the MUHC. This new partnership will enable the Lachine Hospital to continue its outstanding service to the Montreal community for years to come.

Lemieux Report - L'AVENIR DE L'HÔPITAL DE LACHINE DU CENTRE UNIVERSITAIRE DE SANTÉ MCGILL (CUSM)


Implantation de l'approche milieu de vie - Plan d'amélioration
Patient Information Guide
The hospital entrance is located at 650, 16th Avenue in Lachine (corner of Rue St-Antoine).

Google map


Directions to the hospital
Metro/Bus
Get off the metro at the Lionel-Groulx stop. Take the 191 bus to the corner of Provost and 16th Avenue. Walk down 16th Avenue.
For more information on public transportation call 288-6287, or dial 514-AUTOBUS. You may also consult the STM web site at http://www.stm.info.
Car
From Autoroute 20, take the 32nd Avenue exit. Take 32nd Avenue to Provost. Turn left on Provost and then turn right on 16th Avenue.
Parking
You can park by entering at the St-Antoine entrance parking lot.
Lachine Hospital