Zero CVL infection! A recipe for success at the Neuro's ICU
Last December, the Intensive Care Unit (ICU) of the Montreal Neurological Hospital of the McGill University Health Centre (MNH-MUHC) accomplished a spectacular feat that all members of the team can be truly proud of. They achieved Gold Status in the Be Line Wise Program by maintaining zero central venous line (CVL) related infections for a period of two years*.
"This level of excellence is extremely difficult to achieve," says France Paquet, a clinical practice consultant who has been involved in harmonizing the practices related to central line-associated bloodstream infections (CLABSI) at the MUHC since 2010. "Even though 95 per cent of infections are preventable, there's still that five per cent of catheters that can become infected. So what the ICU at the Neuro did was not a fluke, but a direct result of the impeccable work and constant awareness of the physicians who insert the lines and the nurses who make sure they are spotless."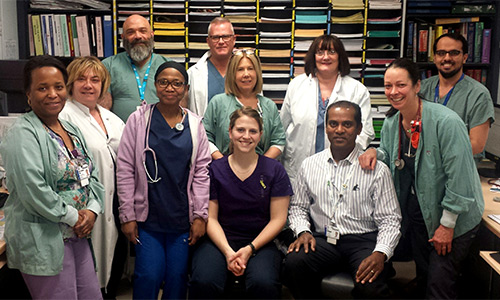 Of all hospital-associated infections CLABSIs are among the deadliest and costliest – each infection has a mortality rate of 15 to 20 per cent and costs over $25,000 to treat. In 2010, the MUHC's Prevention and Infection Control Department implemented a program based on best practices to drastically reduce the risk of CLABSIs. Since then, many units from our various hospitals have been involved in the Be Line Wise Program. 
Nurses, key to success
Front-line nurses are key to the success of the program. At the Neuro, each member of the nursing staff completed a clinical indicator sheet every day, something usually done by an auditor. They filled out details about hand washing, type of catheter, solution and dressing used, site selected, etc.
"This valuable data is used to calculate infection rates and device use for comparison with other Neurosurgical ICUs," says Infection Control Practitioner Susan Rachel. "They also highlight clinical clues for infection such as fever, and that alerts me to review the chart for hospital acquired infection."  
Most importantly, nurses must create the habit of always questioning the need for invasive catheters.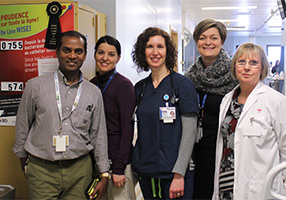 "As ICU nurses, we like having central lines," says Nurse Marianne Sofronas. "They make it easy to administer multiple medications quickly, measure central venous pressure and draw blood in patients with difficult venous access. But it's important to balance their usefulness with their potential risks."
Marianne and her colleagues had the full support of Nurse Manager Siva Moonsamy and the MNH-MUHC ICU leadership team, who encourage a sense of belonging and responsibility.
"It's important to keep the team engaged and to make sure they have all the recommended materials for the insertion and maintenance of the CVLs," Siva says. "We also encourage all members of the team to contact us if the guidelines are not followed."
"Our success is reflective of the culture of this unit," says Marianne. "We share info and collaborate. I wouldn't hesitate to speak to someone, no matter what their position, if I'm concerned about a line. After all, our patients require critical care. They are sicker, more fragile, and therefore more prone to infection. In this case, vigilance, teamwork and evidence-based practices are the recipe for success."
* "The ICU infection rate has been below the National Healthcare Safety Network (NHSN) Neurosurgical ICU benchmark data of 1.3 per 1000 CVL days for the past three years. This reflects sustained practice improvement in ICU CVL management which is an important Patient Safety Initiative." (Source:  2014-15 MNH Infection Control Annual Report)