World AIDS Day: Know Your Status
Forty-one-year-old Marie* fled violence in her country for sanctuary in Canada, where her petition for asylum is being processed. Settled into her studio apartment in Montreal's Ville St-Laurent neighborhood, her $500 rent monopolizes the $611 monthly stipend she receives from the government. Here, she sits alone without a TV or internet as she tries to forget the gnawing in her stomach while grappling with her new home and its increasingly colder climate. These unfamiliar surroundings offer no consolation from the fear gripping her following an unexpected diagnosis of HIV, the virus that causes AIDS.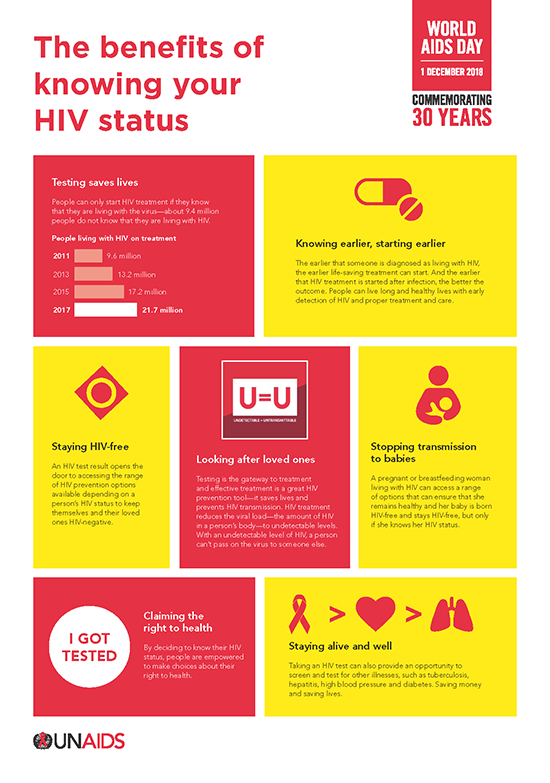 Treatment is essential to suppressing the virus so missing her appointment at the Chronic Viral Illness Service (CVIS) of the McGill University Health Centre (MUHC) isn't an option. With no money for public transport, Marie puts on her autumn jacket and takes the first steps of a three-hour walk across the city to her appointment as November's first sub-zero weather snap sets in.
"Will I die?" she thinks to herself as she attempts to come to terms with the road ahead to treating this disease, her unwanted companion in a new chapter of her life.
World AIDS Day celebrates its 30th anniversary on Saturday, calling on the global community to get tested and know their HIV status. Fast-Track Cities like Montreal are committed to diagnosing 90% of people living with HIV, providing antiretroviral (ARV) treatment to 90% of people diagnosed, and suppressing the virus in 90% of people treated. We think we can - and should - go further.
Marie is just one of the increasing numbers of vulnerable HIV-positive patients in the CVIS' care. Quebec's HIV surveillance program found 455 people were diagnosed with HIV in Montreal last year, with nearly half of those identified as new cases from HIV-endemic countries. The CVIS estimates it has cared for half of these new patients - a trend that has continued into 2018.
There is no denying the success of ART medications; since 2016, 98 percent of our patients are on these medications and 92% of them were virally suppressed meaning HIV lingers in the body, but the immune system remains strong enough to repel any attack.  HIV patients who take their ARVs regularly maintain undetectable viral levels in the blood and cannot transmit HIV infection sexually. As UNAIDS puts it: 'Undetectable equals Untransmittable' (U=U).
The CVIS, one of a few hospital-based specialized clinics in Montreal, has a history of leadership in research, teaching and the clinical care of people living with HIV. The multidisciplinary team has a broad understanding of the needs of this clientele, which includes migrants, refugees and asylum seekers. Many of our patients, including those born in Quebec, live in extreme poverty and, beyond the stigma, must make daily choices: either eating and caring for their family or taking medicines. This can set a RAMQ-covered patient back over $1000 every year.
In response, we have collaborated with the MUHC Foundation to establish a Patient Fund to assist vulnerable patients. But governments need to do their part too.
Getting people to know their status and keeping patients engaged in care and able to take their ARVs is crucial. If we want to support people living with HIV and respect Canada's commitment towards UNAIDS' target of ending the global AIDS epidemic by 2030, we need both leadership and resources. We must ensure long-term ARV treatment is accessible. There should be no financial barriers to starting and taking these life-saving medications. HIV infection represents a threat to the public's health not unlike tuberculosis, where treatment is provided without cost to the patient. Why can we not replicate the case of tuberculosis infection and offer free treatment of HIV?
Health is a basic human right. By assuring access to treatment for people living with this deadly and highly stigmatized disease, regardless of where they call home, we will be doing our part to bring an end to the HIV/AIDS epidemic.
Signed,
Joseph Cox, MD; Nadine Kronfli MD; Marina Klein MD; Luciana Ruppenthal MSc; Alison Wong MSc; and Claire Duchesneau, MSW, of the Chronic Viral Illness Service of the McGill University Health Centre.
* Patient's name changed to protect anonymity