Working with and for patients
Lia* is a patient of the Montreal Neurological Hospital of the McGill University Health Centre (MUHC). In five years, she has undergone three brain surgeries, two of them to repair aneurysms.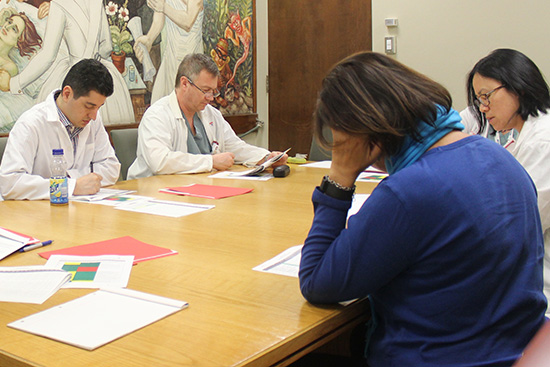 Patient partner Lia (in blue) is part of the perioperative care and invasive procedures team working on the QMENTUM process at the Neuro. From left to right: Dr. Roberto Diaz, neurosurgeon, Martin Tremblay, assistant nurse manager, Dorothée Hum, nurse practitioner.
On a Tuesday afternoon in May, Lia heads to the hospital, but this time it is not for a medical appointment. As a patient partner of the MUHC, she was selected to take an active part in the QMENTUM process from Accreditation Canada, an independent, not-for-profit organization that contributes to improving the quality of health care across our nation.
"It's a spectacular initiative," says Lia. "Inviting patients and their families to be actively involved in the process and to share their positive and negative experiences in a constructive way is proof that the MUHC appreciates the value of our contribution to quality improvement."
Today, Lia is taking part in the first self-assessment meeting of the perioperative care and invasive procedures team that's working on the QMENTUM process. Like all other teams preparing for Accreditation Canada's visit in March 2018, this group is responsible for identifying areas for improvement and developing action plans.
Using a roadmap, the team reviews the outcomes of both the self-assessment completed by staff in January and the survey conducted with patients about their experience at the hospital.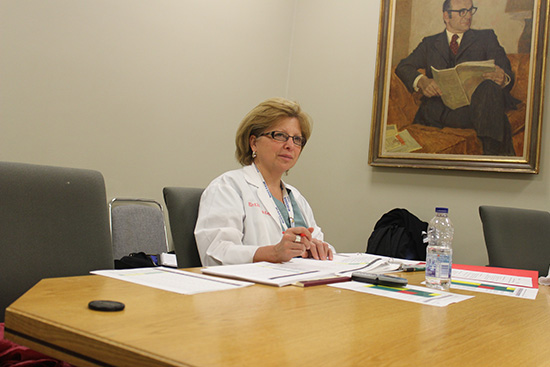 "Having Lia share her experience and recommendations with us motivates us to improve the quality of care." — Esther Matesi, nurse manager of the Operating Room and Neuro-radiology.
"The added value of having patients in the QMENTUM process is, first of all, to confirm (validate) the self-assessment or to question it," explains Karine Vigneault, coordinator of the MUHC's Patient Partnership Program. "Furthermore, the participation of patients makes it easier to decide which actions to take first. One can think, for example, that the most important issue for patients is the wait time before an appointment, but when you talk to them you realize that what really disturbs them is not having enough time to ask all their questions to their doctor. By working with patients right from the start, we ensure that the actions we take are really going to matter to them." 
During the meeting, Lia talks about her surgeries. She mentions the warm welcome by every member of the Neuro team. Always quick with a smile, they reassured her and helped her to feel less anxious just before the operation. She says she appreciates the fact that the staff took the time to meet with her family to inform them of the progress of the surgery. She also expresses the desire to see such 'attentive, reassuring and professional' care systematically provided to all patients.
Lia's comments deeply touched Esther Matesi, nurse manager of the Operating Room and Neuro-radiology.
"Because of the transitory nature of the care provided in the operating room, we rarely have patient feedback," says Esther. "Having Lia share her experience and recommendations with us motivates us to improve the quality of care and makes us realize how much the patient and their family are at the heart of what we do."
Lors de la rencontre, Lia revient sur ses chirurgies. Elle parle de l'accueil chaleureux de chaque membre de l'équipe du Neuro. Toujours avec le sourire, ils l'avaient rassurée et aidée à être moins anxieuse avent l'opération. Elle dit être touchée qu'on ait pris le temps de rencontrer sa famille pour l'informer du déroulement de la chirurgie. Elle exprime aussi le désir de voir des soins aussi « attentionnés, rassurants et professionnels » prodigués de façon systématique à tous les patients.
Les commentaires de Lia touchent profondément Esther Matesi, infirmière gestionnaire au bloc opératoire et en neuroradiologie.
« À cause de la nature transitoire des soins dispensés au bloc opératoire, nous n'avons pas souvent le feedback des patients, dit Esther. Le fait que Lia partage avec nous son expérience et ses recommandations nous motive à améliorer la qualité des pratiques de soins et nous fait réaliser à quel point le patient et la famille sont au cœur de nos actions. »
A higher level of patient involvement
The importance of patient and family participation in planning and improving care and services is increasingly acknowledged worldwide. Moreover, after conducting an extensive consultation, Accreditation Canada revised its standards to integrate patients throughout the evaluation of all its quality standards. This major shift is well received by Karine Vigneault.
"At the MUHC, we have a core structure in place to help teams integrate patient participation in our quality improvement processes." — Karine Vigneault 
"Studies show that patient partnership in patients' own care has many positive impacts," she says. "At the MUHC, we have a core structure in place to help teams integrate patient participation in our quality improvement processes."
Since 2015, the MUHC has developed a recruitment process to enable more patient partners such as Lia to get involved in committees and working groups. Also, a continuous survey program and other short-term surveys help measure the patient experience. This structure has allowed the MUHC to "be way ahead" in preparing for the accreditation.
"For QMENTUM, we have integrated elements that were not required by Accreditation Canada," says Karine. "For instance, we invited a few patients to complete a survey on their experience as part of the self-assessment phase. The results feed the teams' deliberations as they prepare action plans. We want to send the message that in the future, when evaluating and improving practices, the MUHC will always consider the voice of patients and families."
* The surname has been omitted to protect the anonymity of patient.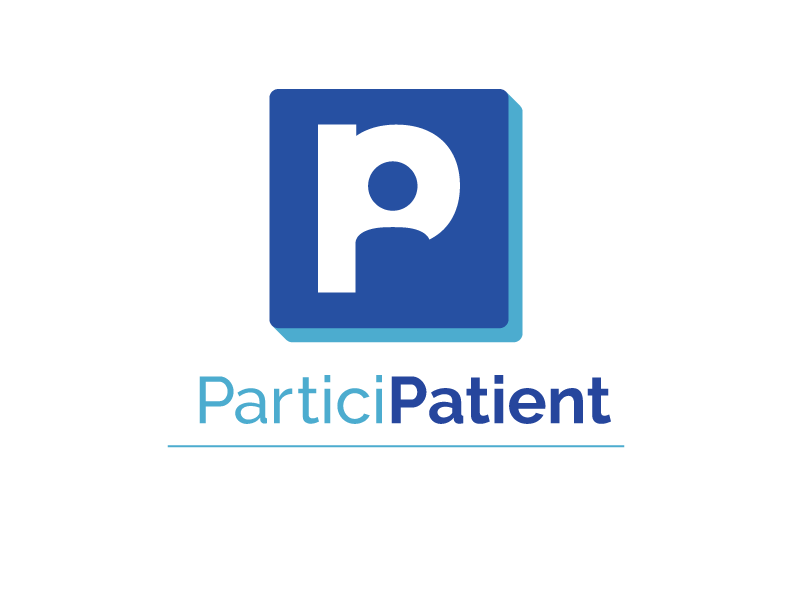 A hospital centre looks for partner patients
Approximately 40 patients participate in the MUHC's Patient Partnership Program, but new candidates are still being sought. These patients, and sometimes their families, are called upon to actively participate at different levels of the organization including improving quality, management, research and teaching.
The best people to target these patients are the clinicians who work with them. What is the profile of the ideal candidate? He/she is able to express themselves, has good judgment, wants to find solutions to improve the patient experience and is committed to being part of a team from the beginning to the end of a project.
Do you know a patient who fits this profile? Please contact Karine Vigneault by e-mail at [email protected] or by phone at 514-934-1934 ext. 35621.