Where they are now: moving beyond recovery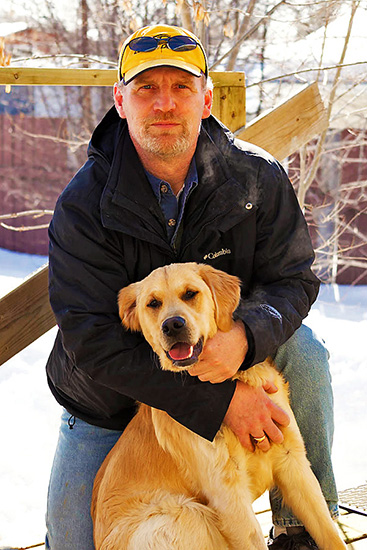 Terry Graham no longer needs an alarm clock. Instead, the retired Regina native relies on his trusty retriever Samson to wake him every morning for a two-mile walk.
"Samson is quite possibly one of the best decisions I ever made. He is an incredible companion and has kept me very active," says Terry. But this is not to say that Terry is not active without his favourite companion.
The 58-year-old loves to travel, whether it is kayaking on the Sea of Cortez in Mexico or travelling with a cause while working with Habitat for Humanity.
When one looks at Terry and his life now, it's hard to believe that just seven years ago he was fighting to see another day.
Diagnoses and Treatment
It all began in 2002, when Terry was first diagnosed with mantle cell lymphoma. His treatment was an autologous transplant, which is when a patient's own stem cells are repurposed. The procedure was successful, and Terry thought he was in the clear. But in 2008 he received news from his doctor in Regina that the cancer had returned, and aggressively so.
Looking for reliable health information or for information about support groups? Visit the McConnell Patient Resource Centre's Patient Portal for carefully selected and trustworthy online resources on:
Leukemia
Lymphoma
Multiple Myeloma
Stem Cell Transplant / Bone Marrow Transplant
"I felt deflated," he says, but instead of giving up Terry began searching for different avenues of treatment, including looking east to Montreal, where his brother lives.
July 2008 was a whirlwind for Terry. It all started in Regina, where he had chemotherapy treatment on the Wednesday; he then flew into Montreal on the Thursday and saw a hematologist at the Royal Victoria Hospital on the Friday. By that Saturday he was sitting on a plane heading back home. Terry eventually made a temporary move to Montreal and continued with his chemotherapy and went on to receive an allogenic transplant (the transfer of either blood stem cells or bone marrow from a matching donor). During his recovery, Terry spent time at the hospital and with his brother in Beaconsfield.
100 days of care
"On January 17, after 100 days in their care, the team at the Royal Vic told me 'you can go home,'" he says. "It is very hard and emotional for me to put into words the impact the Royal Victoria Hospital has had on me. I know I'm very fortunate to be alive today, and to be as active as I am. I know I owe my life to everyone there."
Terry recently returned from Charlottetown, Prince Edward Island, where he took part in a Habitat for Humanity building project. Gaining his health and life back has pushed him to take on a duty to pay it forward in any way he can.