Taking your Health to Heart
Sajjad Randawah and Andre Simard took very different routes to the McGill University Health Centre (MUHC) after suffering heart attacks. Although they arrived under different circumstances, both ended up enjoying the same result: Outstanding treatment and care by MUHC staff at all levels.
September 29th is World Heart Day, a time to highlight that cardiovascular disease (CVD) is the world's leading cause of death. CVD kills 17.5 million people every year.
Sajjad struggled for breath on a February afternoon spent walking between health centres, with too many wrong turns included. He finally found himself in the MUHC's parking lot and just 100 yards from the Emergency Department when despair overcame the 72-year-old Pakistan native. He felt paralyzed by tightness in his chest and a shortness of breath as a cold sweat grew under his winter parka. An MUHC employee on his way home by metro noticed Sajjad's distress and helped get him to the ED quickly.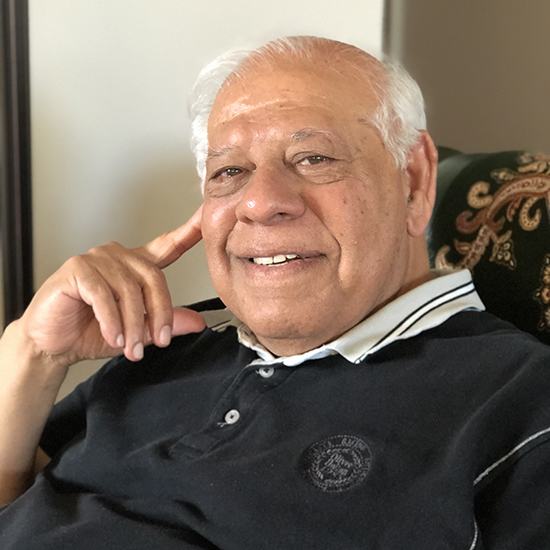 "I was tired and out of my wits. I pushed myself too hard. I couldn't walk anymore. Even when I stopped to rest I couldn't recover," Sajjad remembers.
Andre Simard had never been sick a day in his life. But one August morning, the 81-year-old awoke hot and sweaty with pressure in his upper thorax – an unfamiliar and unpleasant feeling.
"My love," he said to his wife Patricia, "it's not going well."
Over 70 per cent of all cardiac and breathing emergencies occur in the home when a family member is present and can help a victim.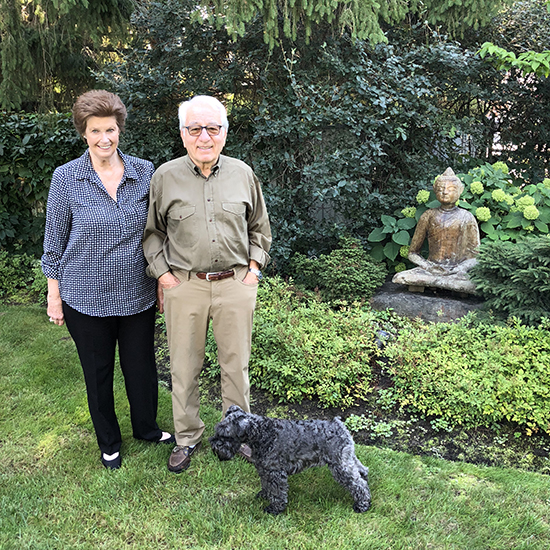 The day Andre had his heart attack, 9-1-1 was called and – upon arrival – he told the responders he wanted to be taken to the MUHC, where a team from the ED was waiting when the ambulance arrived.
"I was taken care of in an incredibly competent and dignified manner. Everyone was polite and nice and asking what language I wanted to speak. Even in the operating theatre everyone seems happy, accommodating and polite," says the extremely gregarious Andre of his five-day sojourn at the Royal Victoria Hospital of the MUHC.
Andre wrote a letter to the Gazette to highlight his positive experience and donated $1,000 to the Royal Victoria Hospital Foundation.
"This is my personal experience and it was first class. No one has a perfect system but what happened with me at the MUHC was basically a model," says Andre, who worked as a civil engineer lawyer. "I was treated with competence, dignity, and a certain amount of affection and love – what else can you ask for?"
Weeks before Sajjad's episode, he brushed off one of his friends worries that he was having a heart attack while moving boxes. On the eve of his visit to the ED, Sajjad parked the car a little further from home than usual but dismissed tightness in his chest as a cold from the longer walk. There was little improvement come morning for a man who loves a big breakfast but was suddenly without appetite.
"If you have an unusual symptom in your chest – even if it's not chest pain, if it's shortness of breath, don't delay in getting a professional opinion. It could be a heart attack so you shouldn't delay getting there," says Dr. Magdi Sami, who follows Simard. "A lot of people don't want to think of the heart so they ignore it and think indigestion. By the time they get checked it's too late."
Sajjad spent a total of 18 days inside the RVH as the cardiologists' debated what treatment to take. Ultimately, Sajjad was the seventh person enrolled in a study led by Dr. Stephane Rinfret using a surgical technique called Hybrid Coronary Revascularization (HCR), an open-heart surgery without the disadvantages related to the use of the vein of the leg. The surgery is shorter, offers protection against long-term cardiac mortality, could allow faster recovery and provides an advantage over only using stents.
"The ambition of this study is to make this technique available to all surgeons and cardiologists around the world; less than one percent of all coronary bypass surgeries in North America are hybrid since very few centres have access to a robot," explains Dr. Rinfret.
Sajjad has lost 30 pounds since as he monitors his weight, one of the key risk factors of CVD alongside diet, physical activity, tobacco use and blood pressure.
"The next morning I felt like I was never sick," says Sajjad, who enjoyed a career that saw him become a top executive at Steinberg's and member on the Immigration and Refugee Board of Canada. "It was a very jovial team, always offering me encouragement. And I will always see the person who helped me get to Emergency and my treatment as an angel."
CVD Health Checklist
The most prevalent cardiovascular diseases include coronary heart disease (e.g. heart attack) and cerebrovascular disease (e.g. stroke).
Check your blood glucose levels: High blood sugar can indicate diabetes, with CVD accounting for 60% of all deaths in people with diabetes.
Check your blood pressure: High blood pressure is the No. 1 risk factor for CVD.
Check your numbers: Measure cholesterol levels, weight and body mass index (BMI), blood pressure and blood glucose.
Understand the signs and symptoms of a heart attack: Pressure, tightness, or pain sensation in chest or arms that may spread to neck, jaw or back; nausea, indigestion, heartburn; shortness of breath; cold seat; fatigue; light-headedness or sudden dizziness.