Researchers still battling Alzheimer's
"Sometimes I bake for my friends, I love baking," says Betty, a very charming woman in her mid-70's, well-dressed with white hair and vivid red lipstick. Betty has a good sense of humour and loves to talk.
"It has been a long time," whispers Clarence, her husband for 53 years.
"It's been a long time since I baked? That's ridiculous," she says upset.
"Yes … it's been years," he replies.
This is the type of conversation that Clarence often has with his wife since she started to experience memory loss, one of the first signs of dementia. Three years ago Betty was diagnosed with Alzheimer's disease.
Recently, Betty was referred by her doctor to the Transcranial Magnetic Stimulation (TMS) laboratory to participate in a research study on repetitive TMS (rTMS) treatment. The laboratory Centre directed by Dr. Lisa Koski, a medical scientist at the Research Institute of the McGill University Health Centre (RI-MUHC) and MUHC neuropsychologist, is the only site in Quebec recruiting participants with early or mid-stage of Alzheimer's for a multi-centre clinical trial led by Zahra Moussavi from the University of Manitoba (U of M).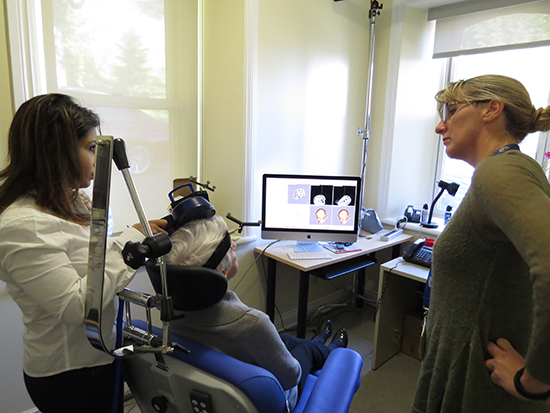 "rTMS was originally developed in the late '80s as a safe, non-invasive and painless treatment for clinical depression," says Dr. Koski who is a researcher in the BRaIN Program at the RI-MUHC and an associate professor in the Department of Neurology and Neurosurgery at McGill University. "Researchers are studying ways that rTMS can be used to treat various conditions or illnesses such as stroke, Parkinson's disease or Multiple Sclerosis. We hope to use it to help slow down the progression of Alzheimer's in patients with early and moderate stages of the disease."
Alzheimer's is a degenerative brain disorder that afflicts more than 46 million people worldwide. It is an irreversible disease that destroys brain cells, causing thinking ability and memory to deteriorate. Each person is affected differently. It is difficult to predict symptoms, the order in which they will appear, or the speed of their progression.
Betty meets Dr. Koski's team for an assessment before taking part in her 20 minute-session of rTMS every weekday, which involves sitting on what looks like a dental chair while she receives the treatment. Although rather noisy—it sounds like a bug zapping light—the procedure is totally harmless. Any effects will be assessed during and up to six months after the rTMS treatment.
"This procedure is non-invasive and feels a bit like tapping to the head for a few minutes," explains Dr. Rishanthi Sivakumaran, a research assistant in Dr. Koski's lab who delivers the daily treatment to Betty. "The metal coil we place on the person's scalp creates a magnetic field that produces electric currents within the brain, firing up the activity of neurons."
Betty is one of eight participants who have enrolled in the clinical trial in Montreal. Dr. Koski and her team are planning to recruit a total of 100 participants locally to complete the study. The clinical trial is the first large placebo-controlled double-blind study designed to measure the effectiveness of rTMS as a treatment for Alzheimer's. This means participants are divided into different groups; those receiving rTMS intervention and the others a placebo (intervention with no active effect)—for two to four weeks.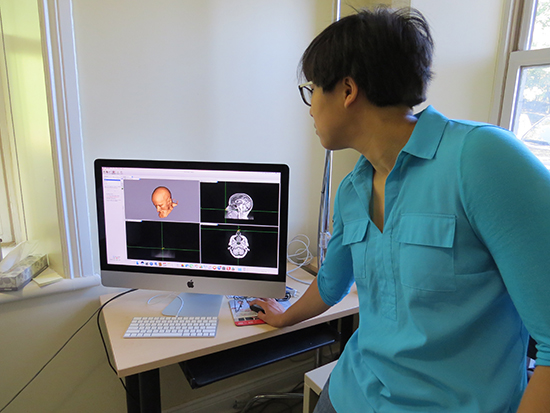 This ongoing research project is based on promising results from a previous pilot project on people in early stages of Alzheimer's that was conducted a few years ago by Zahra Moussavi, Canada Research chair in Biomedical Engineering at U of M.
"Despite increasing momentum in Alzheimer's research over the past years among the scientific community, we still do not know how to prevent or stop its progression," Dr. Koski says. It is a devastating diagnosis not only for the person with the disease, but for those who love this person. Currently a team of researchers in Montreal are testing a potential treatment aimed at preventing dementia, but for those already living with the disease, any effort to slow down or stabilize the condition is a step forward."
Even if it is a promising study, this research is still at its early stage. Throughout this experience, Betty and Clarence have one clear expectation, which is to help advance research about this fatal disease that affects 1 in 11 Canadians.
"We are not looking for a miracle; we are trying to contribute as much as possible to this research program to maybe help others in the near future," says Clarence.
The multi-centre clinical trial is led by the University of Manitoba in collaboration with the McGill University Health Centre, in Quebec and Monash University, in Australia. This research project was made possible by financial support from The Weston Brain Institute. The rTMS equipment in Dr. Koski's lab was acquired thanks to a generous contribution from The Montreal General Hospital Auxiliary of the MUHC.
If you would like to learn more about Dr. Koski's research visit koskilab.mcgill.ca.
For more information about the clinical trial on repetitive Transcranial Magnetic Stimulation please contact Dr. Rishanthi Sivakumaran at 514-934-1934, ext. 34439 or by email at [email protected].