Recognizing exceptional care
Elizabeth Austin was shocked when a fall on ice in 2014 left her with a broken and displaced wrist. "It's quite a long process to come back from—I would look at my hand and wonder, 'what if it never gets better?'" she says.
Elizabeth is incredibly thankful for the amazing Occupational Therapy team at the Montreal General Hospital Hand Clinic. Occupational Therapists at the McGill University Health Centre (MUHC) specialize in helping patients gain the skills for the job of living during difficult times.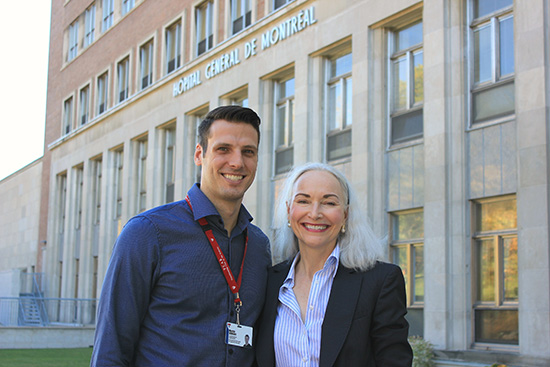 Elizabeth was immensely touched with the care she received that led to her recovery. She took the time to pen a letter of thanks – just in time for Occupational Therapy Month!
Her occupational therapist, Martin Sevigny, has been working with the department for 10 years. "When you get this type of feedback from a patient, it is heartwarming. It really means a lot," he says.
Thank you for your kind words, Elizabeth!
Dear Mr. Kashif Baig, (Manager of the Department of Occupational Therapy - Adult Sites)
I wish to express my sincere thanks. I became a patient at the Montreal General Hospital (MGH) Hand Clinic in March 2015, and I finished my treatments at the end of June 2016. I had a very positive follow-up on August 18which confirmed that I no longer need treatment.
After experiencing a wrist fracture in December 2014, an operation to correct it, and then two months in a cast, I was devastated to learn that my hand was paralyzed. I was diagnosed with Chronic Regional Pain Syndrome. I was informed that I would need long-term treatment on my hand and my wrist in order to recover the ability to use them normally. This was shocking news for me.
However, I cannot tell you the relief I felt when I started treatment in your Hand Clinic and realized that, with the help and direction from my Occupational Therapist, I could actually heal my injuries and return to my normal life. As a patient, the work that your team does is invaluable to our recovery. We can actually go back to our lives, in most cases, without too much adjustment.
The physical aspect to the treatments is, of course, the major component to the recovery. However, I would like to emphasize that the moral support that we receive during the treatments, coupled with the knowledge that professionals are going to lead us out of a very difficult situation, are also extremely important factors in the recovery process.
I wish to express my sincere gratitude for the incredible care and treatment that I received at the MGH Hand Clinic. Gail Peters was my first occupational therapist. She had a wonderfully gentle approach, and she helped me keep hope and work hard to achieve advances in my ability to move my fingers. And it worked! After her retirement, Martin Sevigny took over the challenge. He is a fantastic occupational therapist with a truly helpful and caring attitude. Together, we achieved a near-normal recovery for my hand and a very good range-of-motion for my wrist.
I felt that it was necessary to write to you to let you know just how vital the Hand Clinic is to patients like me. Many hundreds of individuals benefit from it yearly but perhaps they do not have the occasion to write to you personally. I felt that if they did, they would express the same things that I have here.
Please do all you can to ensure the continuation of this important work at the MGH Hand Clinic. With your help, patients are able to continue living productive lives and participate in their communities. Isn't that what we all strive for here in Canada?
I thank you again and wish you much continued success with the MGH Hand Clinic.
Most sincerely,
Elizabeth Austin
Former Patient at the MGH Hand Clinic