A pathway for future generations of healthcare professionals
Innovation requires looking ahead to the future; investment in research, technology, education, and also investing in the next generation.
The Student Educational Training Program (STEP), coordinated by the McGill University Health Centre (MUHC) Volunteer Services Department, has been doing just that. And now that it has been running for 16 years, STEP has become a family affair for Dean, Manny and Roula.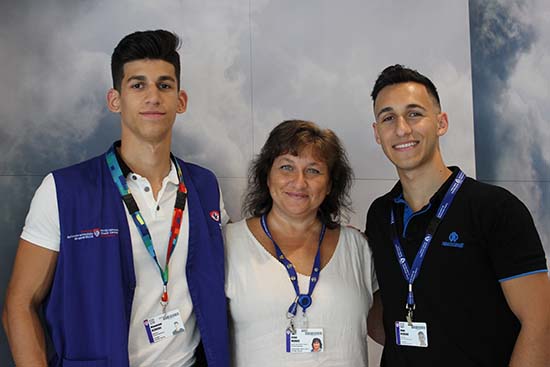 Dean and Manny Bizogias' love of health sciences is heavily influenced by their mother Roula Vrentzos, coordinator of the Epilepsy Clinic at The Montreal Neurological Institute and Hospital, a role she has held for the past 25 years.
"Helping others is my passion," she says. "The feeling I get when my patients leave the clinic with a smile feeling reassured and happy again for me, is a feeling of euphoria."
It's a sentiment now shared by her sons, both alumni of the STEP program.
STEP welcomes students in grades 10, 11, and first year of CEGEP each summer for a 50-hour program. Students are assigned to volunteer tasks across the hospital. They also take part in weekly workshops that focus on valuable life skills, such as CV and cover letter writing, time management training, and the importance of communicating.
"We all know it is not just doctors and nurses in a hospital, it takes a lot of different jobs and people to ensure this place runs effectively," says Irene Vranas, Volunteer Services coordinator MUHC Adult Sites..
As Irene explains, the program exposes students to the diverse roles available in a healthcare setting, opening their minds to career possibilities they may have never considered. Irene's daughter also took part in the program a few years ago, and is now an undergraduate student in microbiology and immunology.
 "We have a lot of former STEP students who come back to speak. Now they are doctors, physiotherapists, researchers, administrators, speech pathologists. The program shapes who you are, and it guides you where you want to go," she says. 
The program itself is a major team effort to organize, coordinate, and make a success each year.
"I am very proud of our volunteer administrative team – including  Luisa Ferreria, Anne-Marie Côté , Mattia Angerillo, and Erin Kennedy -- who worked very hard at putting this program together and worked closely with the students to ensure success," says Rita Giulione, Manager of the MUCH Volunteer Services - Adult Sites.
Opening the door to opportunity
Manny followed in his older brother's footsteps and completed the program this summer.
"I have to be honest; at first I was really skeptical about the program. I am a teenager, I just want to hang out with friends and relax in the summer. But after starting the program I realized that our help here in the hospital is really needed," the 16-year-old high school senior explains.
Manny volunteered as a way-finder, helping patients and their families find their way around the hospital. He also did a weekly shift in the surgical clinic, keeping patients company and ensuring they had proper documentation on hand.
"It can be stressful when coming to a hospital, most people are here for reasons they cannot control," Manny explains. "My favourite part of the experience was the reaction I got from people when I helped them. I brought a little bit of joy to their day."
For Dean, this summer presented a new opportunity. Now 18-years-old and studying honors health sciences at Dawson College two years after completing the STEP program, he came back to volunteer in Dr. Peter Metrakos' laboratory.
"When I took part in the STEP program two years ago, I had newly discovered my passion for medicine and I wanted to see if it was something I could see myself doing as a career," he explains.
This summer, he found himself shadowing senior scientist, Dr. Anthoula Lazaris and research assistant, Stephanie Petrillo, in the Cancer Research Program, organizing slides in the lab, entering data, and helping researchers with day-to-day tasks. He was also privileged to shadow professor and MUHC surgeon, Dr. Peter Metrakos, in the operating room.
"We are very grateful for the volunteers and the opportunity STEP is providing these young minds. They have the unique opportunity to not only to experience the research environment but also obtain a broader perspective of different career opportunities," says Dr. Lazaris.
"Exposure is really a key element in making decisions related to university and career goals," Dean says. "It's nice to get a good look into what it would be like. After this summer, surgery and cancer research is definitely something I would consider pursuing in the future," he adds.
As Manny goes back to school at Royal West Academy and applies to CEGEP, he hopes to follow in his brother's footsteps and return to the MUHC in another volunteer role.
"What I would say to anyone my age reading this is that if they have thoughts of going into the medical field, then definitely take this program. You are put in the environment you would normally be in if you were to pursue a medical career. Even if you end up not liking it you will be grateful that you tried the program," he says.
And just like their mother, when it comes down to it, their love of the field starts with the people.
"It is always about the patients when you are here; your number one priority is to always help the patients," Manny says.
"The STEP program really is a pathway for the next generation of healthcare professionals," Dean says. "If I ever do make it, and become a doctor, I won't forget about the program. I will come back and fund it myself."
For information on the STEP program and Volunteer Services in our hospitals, visit our volunteer section