Kathleen VanderNoot was convinced that something unusual had happened in the Lachine Hospital of the McGill University Health Centre (MUHC) operating room during the cataract operation on her left eye. Once she got her new prescription eyeglasses a few weeks after the surgery, she was sure of it. For the first time in her life, she had peripheral vision in her left eye. 
Kathleen was born with Duane Syndrome, which means she had limited movement of her left eye and no peripheral vision on that side. When she was six years old, she underwent eye surgery that did not fix the problem. She remembers a surgical amphitheatre and being anesthetized using gas. It is a frightening memory that has made subsequent surgeries more difficult for her. "I remember being in a very large room and people going around and around my head."
"My vision never stopped me," she says. She earned a master's degree, taught, and worked at McGill University, for 20 years as a library assistant. She travelled, even though her eyesight made it difficult to adjust to new environments since she had a tendency to trip and bump into things, especially in unfamiliar surroundings.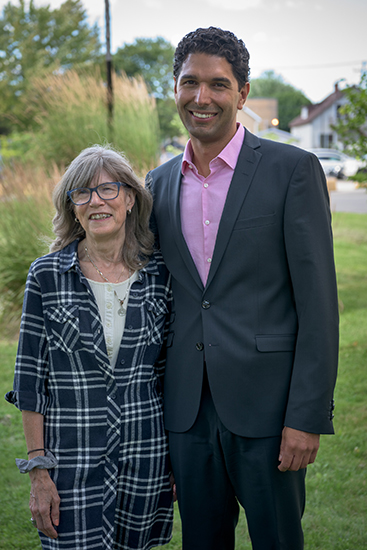 On operation day at the Lachine Hospital, Kathleen was nervous. She said the attending nurse was very sensitive in dealing with her fears and heightened anxiety due to her past surgeries.
"I suffered from anxiety because this was the fourth time my eye was being operated on. I was so scared! I still dreamt about the gas mask and all these people going around my head when I was six. I have to say one thing about the hospital: they were wonderful. Those nurses were angels."
Kathleen's surgeon, Dr. Manuel Perrier, is director of Ophthalmology at Lachine Hospital and has performed about 15,000 surgeries during his career. He says hers was memorable because it was not a typical operation. "The positioning was a little difficult because of the way her eyes are aligned. She has a hard time just looking straight ahead, especially when she's lying down. All I could see was the white of her eye so I needed her to bring the eye down to see it properly for the surgery."
After the procedure, Kathleen says the recovery room nurse was surprised when she told her that she was in pain, which is unusual for cataract surgery. She said the nurse was very attentive and spoke to the doctor about pain management, which was immediately attended to.
Weeks later, she went to get her new eyeglasses and on the walk home, she looked left and saw the rims of the new glasses she was wearing. "I froze. I could see the left rim of my lenses! I'd never done that before. I couldn't play tennis, I couldn't play golf, and I couldn't drive because I couldn't judge distances."
Kathleen delights in using her recently acquired peripheral vision. "I'm certainly a lot less careful about what I do and I don't bump into things. No more bruises!"
Lachine Hospital's Ophthalmology department handles approximately 15,000 visits and deals with 4,000 cataract cases a year. The clinic is an MUHC centre of excellence and helps reduce waiting lists by its ability to treat a high volume of patients. Dr. Perrier says that the ultimate strength of the clinic rests in the people. "We have a good group of doctors and we've always had great personnel. We're good at what we do and we're proud of it. Everyone wants to keep that reputation." The small and effective ophthalmology team is also well-known for donning themed costumes for Halloween, to the delight of patients and hospital staff.
Kathleen is so pleased with her experience that she made an unsolicited donation to the Lachine Hospital Foundation to thank the Ophthalmology team and to support the clinic's work. She is thrilled with the results, which she says have added an entire new dimension to her life.
Dr. Perrier says everything in the clinic was purchased by funds donated to the hospital's foundation. "All the equipment and instruments we use to examine every single patient have been purchased through the Foundation, thanks to the generosity of people like Kathleen VanderNoot."