"Good souls" help patients and families through the last moments of life
Last May, Louise Niemi lost her husband of 49 years, James (Jimmy) Niemi, to bladder cancer and kidney failure. The final eight days of his life were spent at the Palliative Care Unit of the Montreal General Hospital of the McGill University Health Centre (MGH-MUHC)*. It was there that Jimmy, his wife and their son Jason were able to simply be together in peace and quiet to say goodbye.
"Jim was the love of my life. I wanted to do everything for him to enable his passing to be comfortable, pain free and dignified, and since home care was becoming difficult, these wonderful perfect strangers did it for me," says a grieving Louise Niemi, as we sit down to talk about her husband's last days at the MGH-MUHC Palliative Care Unit. "They involved us in everything and helped Jimmy, our son and me have quality time together."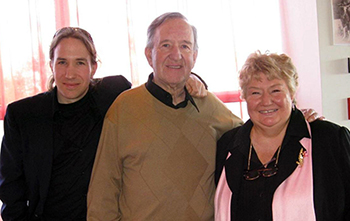 Niemi says the unit impressed her from the first visit, two weeks before her husband was admitted. "The place was bright and comfortable, the rooms were private and the staff was cheerful," she says. "I wanted Jimmy to feel at home, and that, I felt, was the closest thing to home."
According to Dr. Manuel Borod, director of the Division of Supportive and Palliative Care Programs at the MUHC and assistant professor of Oncology at McGill University, taking care of a dying partner at home can be demanding.
"You need to be a partner, not a nurse. So, unless you have enough support or can afford private help, it's very difficult," he says. "We have a multidisciplinary team qualified to manage the patient's physical, emotional and spiritual needs and to prolong quality of life for as long as possible."
"Complete human beings"
Assistant Nurse Manager Diane Lebeau, who showed Niemi around during that first visit, says the patient and the family are the focus of the unit's concerns. "We see our patients as complete human beings and we treat them with humanity and respect," she says. "We're also attentive to the family members, who are going through an intense moment in life."
"These are extraordinary human beings with good souls," Niemi says as she remembers how vigilantly attentive each rotating staff member was to Jim throughout his stay. She also recalls her first encounter with volunteer Ray Chiarella.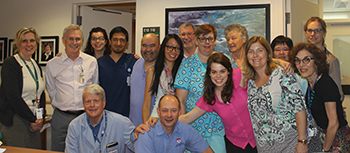 "I was wheeling my husband in, probably looking a little tense. Ray made a joke, and all three of us burst out laughing. He later came in the room and asked about Jimmy's career and gave Jim the opportunity to reminisce about his life."
For Chiarella, taking the time to see "every individual who wants to talk" is all in a day's work. "If I can go in a room and make anyone smile, I come out happy."
Niemi appreciates the details – the "lovely" paintings on the walls, the CD library and CD players in each room, the weekly wine and cheese afternoons and piano concerts – that show the extent to which the staff and volunteers will go to help both patient and family.
"Jimmy regrettably wasn't well enough to attend those events, so the wine and cheese and music were brought to his room. We had a wonderful time when Debra Salmon, the music therapist, and Danielle Robert, the intern music therapist, paid us a visit," she says with a smile. "That afternoon, my sister Denise and our son Jason were there, and we sang all kinds of songs."
"Music draws the family together," says Robert, who remembers "having a ball" with the Niemi family singing Bob Dylan songs and the hit Quand le soleil dit bonjour aux montagnes ("The French Song"). "It creates a safe space where they have permission to let go."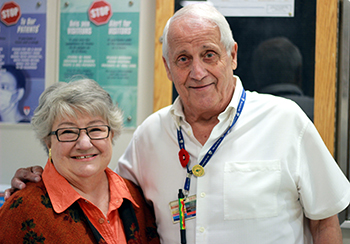 "Not just a job"
On Friday May 1, James Niemi passed away, and his wife was by his side, as she had always been.
"I couldn't have asked for a better ending to Jimmy's life," Niemi says through tears. "We had such wonderful parting moments, and I was able to thank him for being the wonderful husband he was. The staff was so gentle and considerate. They waited until our son Jason and brother-in-law, Bill, arrived and came into our room for a universal prayer. I cannot say enough about the personnel and the genuinely kind and attentive help they provide at a very vulnerable time for family members."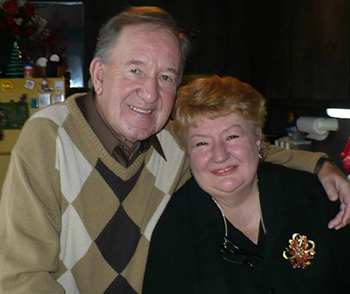 Louise Niemi has listed the MUHC Supportive and Palliative Care Fund of the Cedars Cancer Foundation for donations in memory of James Niemi.
"It is obvious that this is not just a job to them; they truly care for their patients and their families, Niemi says. "Anyone having to go through this sad time with a dear one cannot find a better place to be than the MUHC Palliative Care Unit. Donations will help the longevity of this most remarkable unit."
* The Palliative Care Unit has moved to the Glen site on June 14th 2015.