Living the good life at 78
Guy Dorion, 78, has always loved to play sports. Every summer, he would spend hours playing tennis and golf, and in winter he enjoyed downhill and cross-country skiing. But last December the Trois-Rivières resident was forced to stop all physical activity because a blocked artery was causing angina, which results in severe pain in the chest due to inadequate blood supply to the heart.
It wasn't a first for Mr. Dorion, who is diabetic and has suffered from heart problems for 30 years. He had already undergone coronary bypass surgery and four angioplasties, a procedure that uses a catheter to widen clogged sections of an artery. He expected that a new angioplasty would solve the problem. Unfortunately, the procedure didn't work.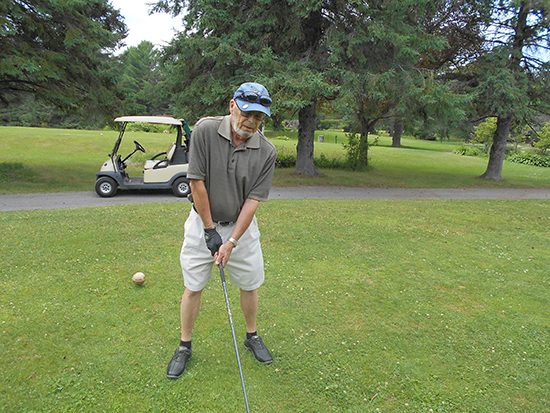 "They couldn't unblock the artery in question," says Mr. Dorion. "I was told that the only possible treatment would be with drugs. I had no quality of life dealing with angina pain at the slightest exertion. So my cardiologist in Trois-Rivières referred me to the Cardiac Catheterization Laboratory of the McGill University Health Centre (MUHC). He knew it had state-of-the-art equipment and thought lab Director Dr. Stéphane Rinfret, who is also the MUHC director of Interventional Cardiology, had a unique expertise that could help with unblocking this artery."
A state-of the art lab and outstanding expertise
Cardiac catheterization laboratories are examination rooms equipped with advanced diagnostic and imaging equipment to perform a coronary angiography or coronarography. During these procedures, a thin tube or catheter, is inserted into an arterial vessel in the patient's wrist or groin and threaded through to the heart carrying a contrast agent that allows blocked or narrowed arteries to be detected under X-ray. The patient must stay awake throughout the procedure, which usually takes about 30 minutes. In the case of an angioplasty, a thin wire goes through the narrowed artery, which is then widened. This is followed by the insertion of a metallic drug-eluting stent – a metallic tube coated with drugs – that keeps the artery open and optimizes blood flow to the heart.
"Judging from my previous experiences, I didn't expect it to take long, but it took six hours," says Mr. Dorion. "Apparently, it's a very difficult procedure. I had catheters in both wrists and my groin at the same time, and I had to stay still. To distract myself, I played golf in my head while Dr. Rinfret played with my heart!"
The effort was rewarded. Dr. Rinfret finally succeeded in reopening the blocked artery. Unfortunately, Mr. Dorion later developed other health issues unrelated to his heart problems (he had bladder surgery for a cancerous tumour) but things have returned to normal since the end of his treatment.
"I've been playing golf for the past three weeks," he says with delight. "I'm now able to mow the lawn, not all at once but over two days. I have no more angina pain. I've learned to do things differently, and I don't stress anymore. I would very much like to thank the team at the Cardiac Catheterization Laboratory of the MUHC and, obviously, Dr. Rinfret. Thanks to them, I still have some great days ahead."