At the heart of suffering
When a person is admitted to hospital and becomes a patient, often times they are experiencing a distressing moment in their lives. These are the moments that sometimes leave us asking "why me," "why now," "who am I and who will I become after this?" The answers to these questions do not exist in a manual or book, but spiritual care professionals at the McGill University Health Centre (MUHC) work with patients to help them find the answers in themselves.
Claude Mailloux, a spiritual care professional (intervenant en soins spirituels) with over 20 years of experience, 10 of those at the MUHC, knows very well the importance of offering this service to patients.
"Spiritual care services are essential for a simple reason. When one becomes a patient, or a family member has someone close to them hospitalized, they enter a system of diagnoses and exams."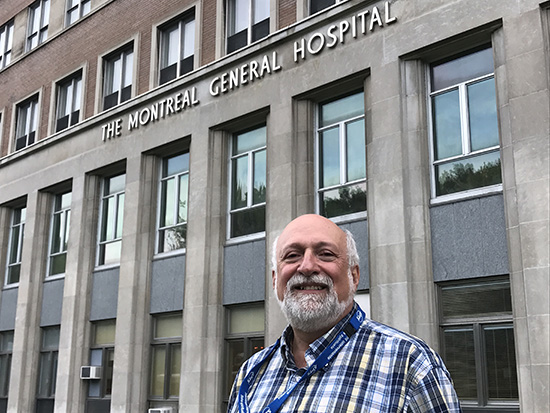 "Hospital staff has a tough job, and do not always have the time to talk with people who need someone to confide in. Having an attentive ear at your disposal makes all the difference in these difficult moments."
Claude, like his fellow eight spiritual care professionals in the adult Spiritual Care Services department, begins everyday by checking his messages, his patient list for the day, and balancing his time between new patients and those who have requested follow-up visits. The team also always has one person on-call on evenings and weekends, who will attend to any necessary visits or requests at the Glen site, Montreal Neurological Hospital, and the Montreal General Hospital. As Claude explains, this can range from consoling family in distress, to reading a blessing or prayer to a patient who is at the end of their life.
It's these experiences, these conversations, and these connections that led Claude to take a sabbatical last year to sit down, gather his thoughts, and write a book.
The writing process
"At some point in life, you get the feeling that you have something you need to share, to give to others. After speaking with and meeting so many people, and an enormous amount of reflection on the work I do, I understood that I could allow myself to write," Claude says.  
His book, launched at the end of October this year, is titled Présence nue, l'accompagnement des personnes souffrantes.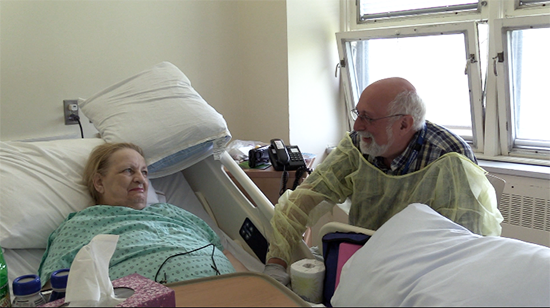 In it, readers will find Claude's reflection on his work and the importance of companionship, communication, and connecting with people on a human level.  For him, the book writing process allowed him to reflect on the various challenges presented by the human condition.
"I hope people reading the book will discover another dimension of human beings. When I am with people, I accept the present moment we are sharing as it is, and I work hard to feel the emotions that they feel, to hear the words they are saying, and to let them own their pain and distress. It belongs to them."
For Claude, much like the title of the book, he felt a bit naked and vulnerable throughout the writing process. Everything he believes, and much of what he has lived in his companionship of those suffering from illness, is on display. However, he felt ready, and hopes that his experiences will be of use to others in this ever-evolving field.
"I think one of the biggest things I have learned over the years is to let compassion develop naturally. Do not force it, it cannot be forced. I let myself be touched emotionally by patients, and this allows me to be at their level, to understand a part of their suffering, and I never say that I understand them. I wait for them to point out that they feel as though I am connecting and understanding."