"As a coach of quality improvement projects, you have to be convincing and establish a trusting relationship. I tell people: 'You know your work environment. Let's work together to improve it."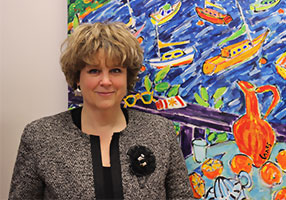 Tell me how you got where you are?
I've been a nurse since 1987 and have always worked at the MUHC. I started as a staff nurse at the Montreal Children's Hospital of the McGill University Health Centre (MCH-MUHC), then became nurse manager, first at the Montreal Neurological Hospital's Intensive Care Unit for 12 years and then at the MCH's Pediatric ICU for 5 years. I was the assistant to the previous Director of Nursing and I've been interim associate director of Nursing (ADON) under the leadership of Andréanne Saucier since 2014.
What do you do as an ADON?
I'm responsible for the Nursing Improvement Program (NIP), an initiative that empowers and equips staff to improve practices and quality of care at the MUHC. That involves the creation of a nursing dashboard with indicators sensitive to nursing care and quality improvement (QI) projects focusing on productivity and a healthy workforce, patient experience and nosocomial infections.
One of your first projects as part of the NIP is the Controlling Specific Infection (CSI) Spread Strategies. Why is it essential to address nosocomial infections first and foremost?
This is still a major issue that requires continued attention. One example is the Glen site, where we still see nosocomial infections despite the single-patient rooms. That's a sign that it's the practice of our healthcare professionals that's facilitating the spread of infection. We don't wash our hands often enough or disinfect the equipment and the environment as much as we should at the MUHC. With the Controlling Specific Infection (CSI) Spread Strategies team, we're going to apply many of the successful approaches from the Transforming Care at the Bedside (TCAB) and CSI Programs to target practices like hand-washing, additional precautions and equipment disinfection. Together, we can significantly improve this situation!
As a coach, what does it take to convince people to embrace a QI project?
Certainly, the capacity to communicate a vision, listen to people and give them the right tools to accomplish their objectives. You have to be convincing and establish a trusting relationship. I tell people: 'You know your work environment. Let's work together to improve it.' It's also essential to measure outcomes to show the concrete difference you actually made. And being passionate is important. I love and have always loved nursing.
What do you like most about your work?
Knowing that by collaborating with teams across the MUHC I can influence the quality of care we provide to patients and their families. Like many nurses and other staff under Nursing, I ask myself 'Have I made a difference today?'
What other projects and activities are you involved in?
There are quite a few: I am leading the team that's implementing the Logibec self-scheduling program throughout nursing across all sites, except Lachine, since they already have it; I'm responsible for the Nursing Resource Centres at the MUHC Montreal General and Royal Victoria hospitals: I've been working closely with the department of Purchasing on a project to improve the acquisition, evaluation and distribution of clinical products and supplies; I'm President of the Council of Nurses of the MUHC; I teach at McGill University and I'm a coach at the Canadian Foundation of Health Improvement (CFHI).
That's a lot of activities! I hear you also do volunteer work.
I'm President of the Board for L'Autre Escale, a not-for-profit organization that does an amazing job helping kids who experience violence at home.
Is there any time left for family life?
For sure! I have two kids: Chloé is studying Art and Design in the U.S. and Hugo is in high-school doing a focus on music. My husband Luc is an administrator. He's in numbers, and I'm a nurse. We don't know where that comes from—having two artists in the family!
What would you tell a nurse just starting in the career at the MUHC?
Each one of us can contribute towards better care at the MUHC. Your fresh eyes are important.
Confessions…
Three things you can't live without: My family, being in nature and movies.
Favourite hobby: Reading historical novels, crafting simple decorations and cooking.
Favourite fitness activity: For the longest time I didn't take care of myself. With a demanding job and family life, my brain walked and my body followed. But I've been getting back into shape: I practice Integral Tai-Chi and I enjoy hiking in mountains. I do a lot of walking with my neighbours in Parc de la Visitation. It's like being in the country!
Favourite place in Montreal: Home sweet home.
Favourite travel destination: Anywhere in Europe!
Favourite quality in a person: Authenticity
Favourite place at the MUHC: Anywhere where I can be productive and use humour with MUHC staff!
Everybody has a story. We'd like to hear yours. Please, contact us at public [dot] affairs [at] muhc [dot] mcgill [dot] ca