Fabulous despite the odds
It was a typical October day. Through the chill of a cold breeze, Miranda Edwards arrived at her yearly check-up thinking that she'd be out of there in a matter of minutes. With her big blue eyes, her bouncy curls and pink lipstick, she entered the room and sat down.
A young resident introduced himself and looked at her in the eyes. "It's high," he said with concern. "The adrenaline levels in your urine are very high."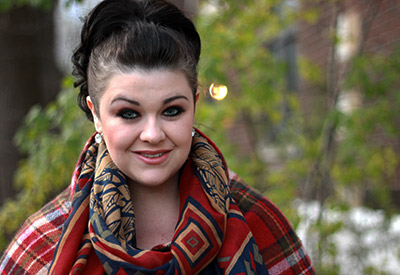 "How is this possible?" she thought. "There is no way I can have this again. Not me. Not now."
Miranda could see the agony in her husband's eyes. She was told they needed to run more tests. But nothing was going to stop her: in three days they would be going to Las Vegas for her 24th birthday and she was supposed to be celebrating five years cancer free.  
The beginning
Miranda's journey with cancer began when she was 19 years old and underwent surgery to treat a very rare tumour called pheochromocytoma.  Usually located in the adrenal gland, this tumour leads to an overproduction of epinephrine and norepinephrine, hormones that control heart rate, metabolism, and blood pressure. 
The problem with pheochromocytoma is that, besides being a very rare tumour, it is also very hard to diagnose. "Every single day I was vomiting, shaking uncontrollably and getting headaches that sometimes even blocked my vision," Miranda recalls.  
In spite of all these symptoms, doctors couldn't give her answers. As a healthy teenager with sporadic "energy attacks", doctors thought she was most likely drinking too much coffee, not sleeping enough and perhaps partying a little too much. 
Miranda felt powerless, but kept going on with her life until one day her heart started beating so fast, she thought she was having a heart attack. "My parents called an ambulance and I was taken to the Winchester Hospital in Ontario and then transferred to the Ottawa Heart Institute," says Miranda, who lives in Gatineau, QC. "I had no idea what to expect. There were so many teams coming in to ask questions and I was just there, undiagnosed and unable to leave the unit; I was continually plugged to a heart monitor and was kept in the hospital for two months."
Because nothing was adding up, doctors decided to test her for pheocromocytoma.  Then the unthinkable happened: Miranda tested positive and an endocrinology team detected a softball-size tumour in her abdomen that needed to be surgically removed.
Since this kind of tumour releases large amounts of adrenaline in a very short period of time, the surgery required a lot of precision. Miranda's blood pressure needed to be lowered to almost a dangerous level and her vital signs needed to be closely monitored. Aside from the pain and complications that followed the surgery, Miranda's life went back to normal. According to doctors, she had less than a five per cent chance of experiencing any issues with pheocromocytoma again.
"I had follow-ups every six months and when things got even better, it was once a year," Miranda recalls.
It was October 10 2014 when she went to the hospital for her regular check-up and learned that Pheocromocytoma was in fact back.
"I was in denial," Miranda explains with emotion. "I knew that from that day forward, nothing would ever be the same."
Reality check
After the trip to Las Vegas, things moved fast.
"They found multiple tumours near the same area as before," she explains. "But this time it was different. It was metastatic and recurrent, which is the most complicated type." 
At that point Miranda had only one goal in mind: get the best care possible, even if it meant going overseas.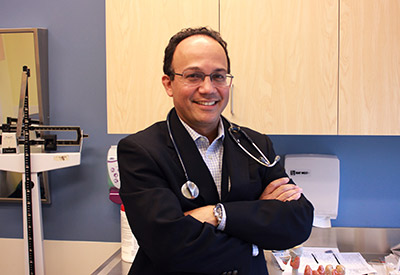 "While doing research on the internet, I stumbled upon Dr. Juan Rivera's name, a renowned specialist in pheocromocytoma, who worked right here in Quebec," she recalls. "I reached out to him via email and he answered in a matter of hours. He said he would see me and that I was going to meet with his multidisciplinary team."
Dr. Juan Rivera is an endocrinologist specialist and director of the Endocrine tumour Fellowship at the MUHC. "From a medical point of view, we had a good chance at helping Miranda by exploring her condition in depth," says Dr. Rivera. "We ran every test that was necessary to have a clear picture of the extent of the disease; these included specialized serum and urine tests, as well as radiology and medicine imaging. We wanted to come up with our own conclusions. It was a process that took around two months to complete." 
Dr. Rivera and Dr. Peter Metrakos, director of Hepatopancreatobiliary Surgery at the MUHC, determined that Miranda needed to undergo a second surgery to remove the new tumours. "We maximized the precautions," says Dr. Rivera. "And we took our time to prepare her because we knew how challenging the procedure would be."
Between working with the pharmaceutical team to get special medication for Miranda, and having a close relationship with the nuclear medicine team to conduct radiotherapy, like an orchestra director, Dr. Rivera made sure everyone was doing their part to provide her with top quality care.
"It's not just good," says Miranda. "The care is always extraordinary."
Pheo vs Fabulous 
Always an optimist on life, Miranda has now put a positive spin on pheocromocytoma with a blog called Pheo vs Fabulous. Through this platform, she documents her journey in the hopes to better educate those who are also suffering from this rare disease. To date, she has connected with patients around the world, offering advice and comforting for those in need.
"I realized I can control what I call my 'fabulous'," she says with a smile. "I am determined to not let this disease affect my appearance and who I am as a person. I think everyone has the capacity to remain strong. Plus, I'm lucky to be treated at a hospital where I'm taken seriously and where nothing is ever overlooked."
To know more about Miranda's story visit: pheovsfabulous.wordpress.com
You can also learn more about Pheocromocytoma through an online support group : www.facebook.com/groups/pheoparasupportgroup