Detective work at the MUHC
If you've never heard of a condition called Muckle-Wells syndrome (MWS), you're not alone. This auto-inflammatory genetic disorder is so rare even most doctors don't know much about it. Only about 30 people are known to have MWS in Canada, including 42-year-old Malinda Zervakos and her 6-year-old son Liam. For the past three years, they have been followed at the Montreal General Hospital, Royal Victoria Hospital and at the Montreal Children's Hospital of the McGill University Health Centre (MUHC). To reach a diagnosis, a team of astute specialists worked like detectives. They gathered and analyzed evidence about Malinda's symptoms, cracked the mystery of her illness and ultimately saved her life.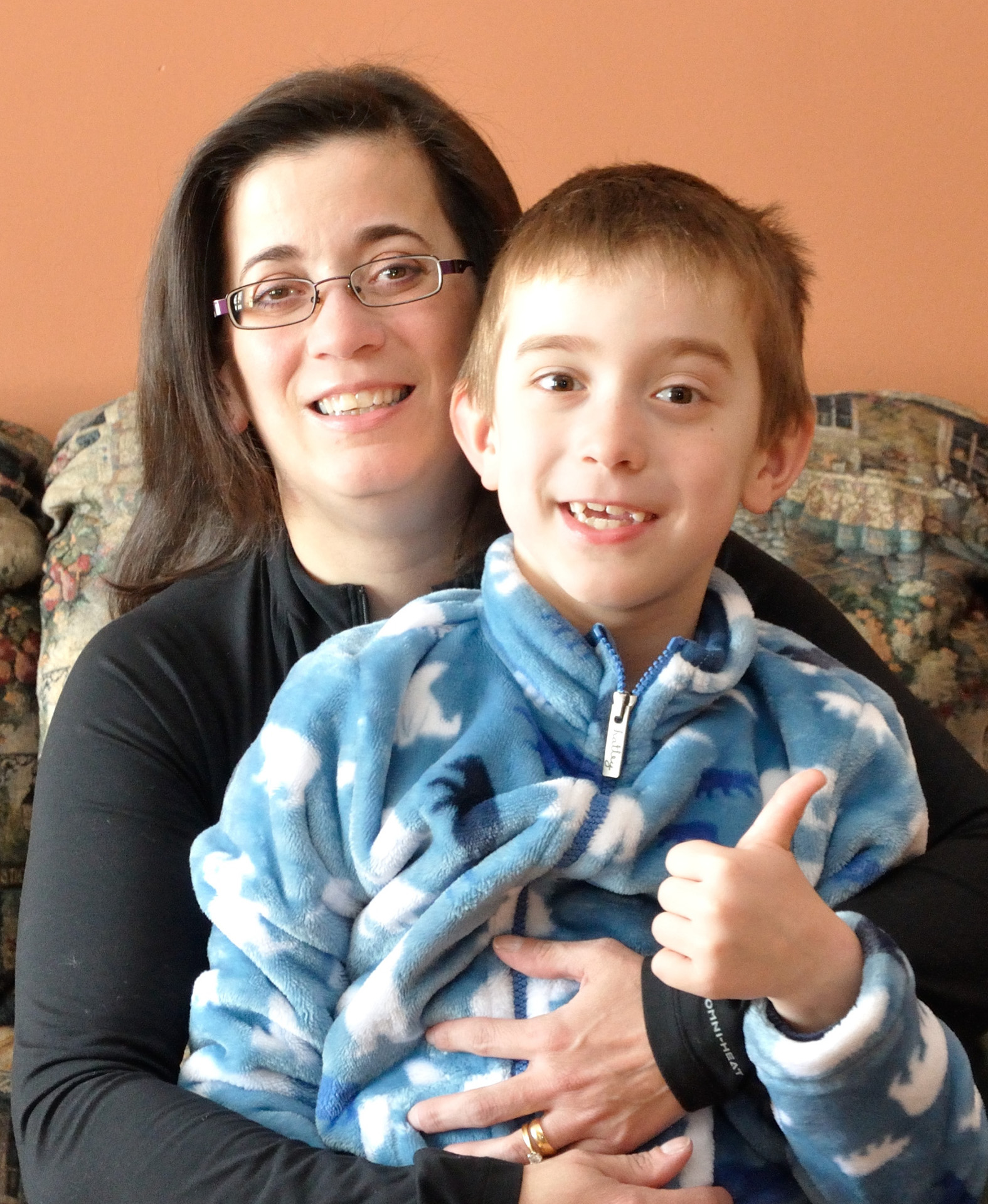 In September 2011, when Malinda Zervakos was admitted to the Royal Victoria Hospital (RVH), she weighed only 89 lbs. and she was literally dying from malnutrition.
"I started having digestive problems and losing weight in 2009, after I had my son. I had such severe diarrhea that if I had to leave the house, I wouldn't eat or drink," Zervakos explains. "I spent a whole year doing all sorts of tests for various inflammatory conditions, with no diagnosis."
Zervakos's health problems had started long before that. During her childhood and teenage years, she suffered from severe migraines, joint pain and swelling, extreme fatigue, recurring fevers and eye and hearing problems. She was also small for her age and had chronic hives that would cover her whole body and made her feel self-conscious. 
"I was often teased at school," she says. "Kids can be mean and tend to pick on people who look different. It was very hard."
Zervakos was in and out of the hospital so many times she had to repeat Grade 2. One doctor told her parents she would never be able to finish high school. Years later, another physician suggested it was all in her head and prescribed anti-depressants. She was in her mid-teens when her doctor decided to treat her for something like Lupus or rheumatoid arthritis (RA), even though her exact diagnosis remained a mystery.
In spite of all her problems, Zervakos did finish her studies, became an ICU nurse, got married and had two kids. But for lack of adequate treatment, her health was on a steady decline. Her situation was critical in the fall of 2011, when she was referred to Rheumatologist Dr. Christian Pineau, co-director of the Lupus and Vasculitis Clinic at the Montreal General Hospital (MGH) of the MUHC, for further testing.
"When Malinda saw Dr. Pineau for the first time she was extremely sick and weak," says Sean Traynor, Zervakos's husband. "He and Dr. Magdalena Drewniak were phenomenal. They disregarded her past history, ruled out Lupus and RA and decided to go in a new direction."
Dr. Pineau began a series of tests and consultations and started looking into the possibility of a genetic disorder. After intensive investigation and analysis, he and his team reached the conclusion that the combination of symptoms Malinda had had for many years could be consistent with Muckle-Wells syndrome, a type of periodic fever disease  in which a mutation in a gene causes the immune system to overreact and trigger inflammation.
The results of GI tract tests requested by Gastroenterologist Dr. Gary Wild offered a second clue to Dr. Pineau. They showed Malinda had secondary amyloidosis, a rare disease that occurs when abnormal proteins called amyloids build up in organs.
"Amyloidosis is a rare condition that develops in people with chronic inflammation and is a recognized complication of diseases such as MWS," says Dr. Pineau, who is also division director of the Department of Rheumatology and assistant professor in the Department of Medicine at McGill University. "The result of that biopsy solidified our diagnosis, which was later confirmed by genetic testing."
Soon afterwards, Zervakos was so weak she had to be admitted to the Royal Victoria Hospital and placed on Total Parenteral Nutrition (intravenous feeding), under the care of Dr. Errol Marliss. (See below: Total Parenteral Nutrition, a life-saver for patients with serious digestive problems)
"These doctors saved my life," she says. "If I had not been hospitalized and treated with TPN at that point, I would not be here today."
With a clear diagnosis, Zervakos had her children genetically tested as well. While her nine-year-old daughter Megan is MWS-free, her six-year-old son Liam tested positive for the disease (See below: Early diagnosis makes all the difference in young Liam's life).
Zervakos and Liam are currently being treated and followed at the MUHC by Immunologist Dr. Emil Nashi and Pediatric Rheumatologist Dr. Rosie Scuccimarri, and at the National Institutes of Health (NIH), a biomedical research centre in Bethesda, US. According to Dr. Pineau, this collaborative approach is a positive thing in Malinda's and Liam's case and is essential when dealing with such rare disorders.
"The NIH is a leading research centre that assesses and treats patients around the world for rare auto-inflammatory diseases. Our specialists at the MUHC get reports from them and follow Malinda and her son."
The diagnosis allowed Zervakos to find support groups for patients with rare disorders*, and the TPN and treatment for MWS finally gave her a chance at a normal life.
"Yes, I have a rare disease, but I have a great husband and a great family and now I know I'm not alone," she says. "Everything that happened to me allowed my son to be diagnosed early. Liam doesn't know what it's like to be sick and he's going to have a great life."
*CORD.CA is Canada's national network for organizations representing all those with rare disorders; NOMIDALLIANCE.COM promotes awareness, proper diagnosis and treatment, and improved care for people with auto-inflammatory diseases.
Early diagnosis makes all the difference in young Liam's life
Until he was diagnosed with Muckle-Wells syndrome (MWS) at three years of age, Malinda Zervakos and Sean Traynor's son Liam was a quiet, passive and cuddly toddler who suffered from recurrent fevers and mild skin rashes and had vision and hearing problems.
"Children often have fevers and rashes, but it's important to be aware that if the same symptoms keep coming back consistently, it may represent another diagnosis," says Dr. Rosie Scuccimarri, pediatric rheumatologist at the Montreal Children's Hospital of the McGill University Health Centre (MUHC). "Liam was lucky. He was tested as soon as his mother's diagnosis of MWS was confirmed. If MWS is not identified early enough, 25 per cent of children can develop amyloidosis, a potentially fatal condition, and up to 60 per cent can have hearing loss."
Even with a diagnosis, patients living with a rare disease and their families face significant challenges, Dr. Scuccimarri explains. 
"They feel alone, because there are no others around them with the same disease. It can be frustrating when they have to continuously explain the condition to physicians and advocate for their child. Some of the treatments can be quite painful. The family also lives with the uncertainty about the development of potential problems and the effectiveness of medications. They have to trust the medical system, which itself does not have all the answers when dealing with rare diseases."
Dr. Scuccimarri is pleased that Zervakos and Liam are also followed at the National Institute of Health (NIH) in Bethesda, US. She had referred them there.
"We can't work in silos with rare diseases," she says. "We have to be sure that our patients get the best care possible. Research centres such as the NIH have the most experience with these diseases and we have to avail this experience for our patients."
Liam needs a daily injection. Although painful, the treatment has had positive effects on his health, says Dr. Scuccimarri.
"Liam is doing better than expected. The medication has reversed eye changes and hearing loss and significantly improved inflammation around the brain," she says. "We're very optimistic."
Total Parenteral Nutrition, a life-saver for patients with serious digestive problems
For patients like Malinda Zervakos, who are extremely malnourished and cannot absorb food by other routes, Total Parenteral Nutrition (TPN) is currently the only solution.
"TPN is given through a vein and provides nutrients carefully matched to the needs of each person. Most inpatients need it continuously until their underlying disease is cured or under control," says Dr. Errol Marliss, director of the Nutrition Support Service at the Royal Victoria Hospital of the McGill University Health Centre and Garfield Weston professor of Nutrition at McGill University.
When she was admitted to the RVH, Zervakos needed TPN 18 hours a day, seven days a week. She was accepted into the hospital's Home TPN Program, one of only three offered to adults in Quebec.
"For most of our 30 patients, home TPN improves quality of life and allows for return to previous activities and employment," says Dr. Marliss. "The program is also cost-effective, because patients don't have to remain in the hospital."
Home TPN is a demanding treatment that requires many supplies, a place for sterile preparations and strict techniques to prevent infection. Thus, patients who join the program have to be trained by a team with specialized and experienced nurse-clinicians and a dietitian. 
Zervakos, a former nurse, had no problems mastering the strict requirements to self-administer TPN at home, says Dr. Marliss
"Throughout her follow-up, Malinda has been exemplary to work with! She now needs infusion only 5 nights a week and has a special backpack that allows her to continue the TPN while active. Her primary medication, combined with TPN, has been so effective that she could well decrease her dependency on TPN even more in the future."