Cervical Cancer Awareness Week
In November of 2013, Cynthia Roy, a young mother, received a phone call that left her in tears. The result of her PAP test to screen for cervical cancer revealed the presence of abnormal cells that could develop into cancer. Thanks to the quick intervention and reassuring approach of her gynecologist, Dr. Barbara Bodmer, as well as the attentive care she received at the McGill University Health Centre Royal Victoria Hospital (RVH-MUHC) at the Glen site, Roy was able to get through those anxious moments.
What prompted you to consult a gynecologist and undergo a PAP test?
I had been having stomach pains and a burning sensation during my periods so my husband urged me to consult someone, but I always postponed the visit. When I finally consulted, the doctor also performed a routine Pap test. It was Dr. Barbara Bodmer, gynecologist at the Royal Victoria Hospital, who called me with the results and recommended I also have a biopsy and a colposcopy, which is a more thorough procedure to examine the cervix.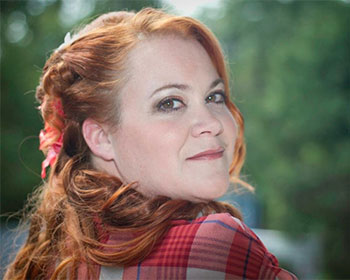 How did you react?
At the beginning, I was expecting the worst. I cried and told my husband I didn't want to have cancer. I was stressed at having to undergo the colposcopy, but Dr. Bodmer reassured me right away and gave me clear and simple explanations. She told me that cervical cancer is caused by the human papillomavirus (HPV), a sexually transmitted infection. Certain strains of the virus, which is very common, can trigger cell changes and develop into cancer.
What did Dr. Bodmer say after the colposcopy?
The biopsy results indicated that the precancerous cells were high-grade, so she recommended I undergo a procedure called LEEP* to remove a thin layer of the cervix. I had the intervention at the Royal Victoria Hospital in March of 2014, and once again, her attention and kindness were reassuring.
How was your experience at the hospital?
It went really well. Staff members are caring and welcome us with a smile. If we have concerns, the nursing team is there to answer them. We just leave a message and they call us back quickly.
What happened after the procedure?
I saw Dr. Bodmer for follow-up visits every six months to make sure everything was ok, and so far things are good!
*The Loop electrosurgical excision procedure (LEEP) removes a thin layer of the cervix by sending an electrical current along a thin wire loop.
Cervical Cancer
Cervical cancer is a malignant tumour that starts in the cells of the cervix
According to the Canadian Cancer Society, in 2015, 1,500 Canadian women will be diagnosed with cervical cancer and 380 of them will die from the disease.
All women who have been sexually active should have regular Pap tests by the time they are 21 years of age.