Celebrating a golden age at the MUHC
While the Quarter Century Plus Club Celebration honours our staff for significant years of service, rarely do we find ourselves with a golden opportunity to honor one physician for 50 years of service.
In 2019, we get to celebrate a pair. "It's hard to believe," says Dr. Alec Ramsay, a senior psychiatrist at the MUHC and Associate Professor of Psychiatry at McGill University. "I can remember the first day I arrived. I feel very lucky today I can still help people to this day."
Incredibly, Dr. Ramsay and Dr. Mortimer Levy have been practicing within MUHC-affiliated institutions for over 50 years. And yet their link goes back even further to 1955 when Dr. Ramsay first spotted his fellow half-century club honoree shooting pool in the basement of the McGill University Faculty of Arts building.
 Four years later, Dr. Levy was a medical student at the Royal Victoria Hospital, which back then meant sleeping in the hospital. After graduating from McGill, Dr. Levy was a resident under the tutelage of Dr. John Dossetor, the founder of the hospital's transplant program within the nephrology division. Following a two-year stint at Boston University Medical Center, he returned to the Vic to join the nephrology division, where he ultimately went on to become its chairman from 1984 to 1998.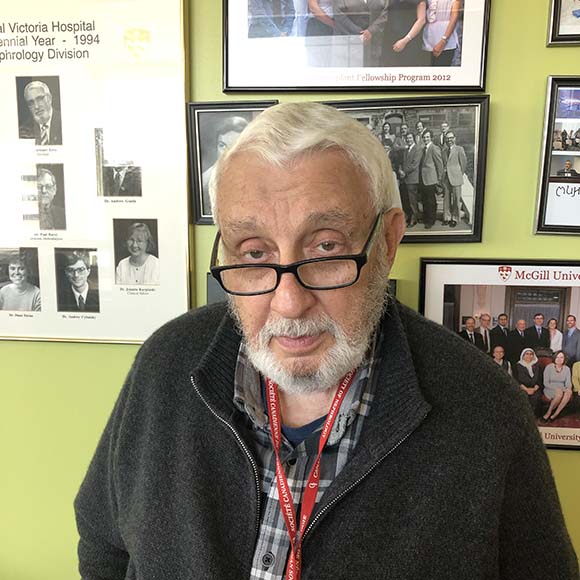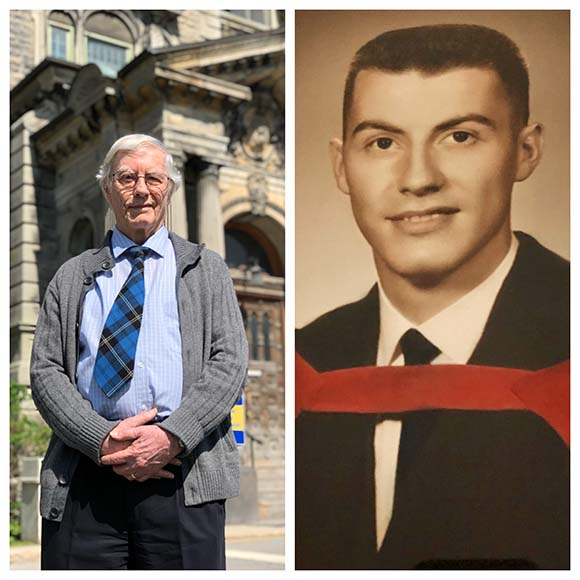 "The Royal Victoria Hospital provided a lot of firsts. It was the first hospital in Montreal to use an artificial kidney, the first to initiate a transplantation program, and one of first to offer chronic hemodialysis as a treatment for kidney disease," says Dr. Levy, who met his wife Marsha, a fellow Montrealer, in Boston. "We have led the way in many areas and trained many individuals and have had a major impact on nephrology across the country."
Dr. Ramsay, meanwhile, took his residency training at McGill before joining the staff at the Allan Memorial Institute. His work has centered on consulting with patients who run into psychiatric difficulties while hospitalized or as an outpatient. He presently devotes his attention to patients suffering from post-trauma states, using a relatively newly technique called Eye Movement Desensitization and Re-processing (EMDR).
"I feel very fortunate to be working in this field and to have had the good fortune to be involved in the evolution of medicine and psychiatry over the past 50 years," says the 82-year-old Ramsay. "In the past 50 years, McGill has crossed many frontiers in psychiatry, providing a variety of rich training opportunities from which my colleagues and I have benefited greatly."
While they share a similar professional past, this pair of golden boys has chosen different futures. Ramsay, whose wife Maria has worked as a psychologist at the Montreal Children's Hospital for 35 years, will work part-time for as long as he is able.
Dr. Levy, meanwhile, will find time for new hobbies as he settles into retirement come July.
"I would like to write some articles related to medical history on various aspects of medicine," says Dr. Levy who just turned 83.
"I still remember Dr. Levy's physiology classes from my time as a medical student at McGill University, even some of his particular lessons," said President and Executive Director Dr. Pierre Gfeller. "On behalf of the MUHC, we wholeheartedly thank both Dr. Ramsay and Dr. Levy for their dedication to our institutions and long-standing commitment to the care of our patients."