New MUHC research recommends further safety evaluation of DINCH plasticizer
A commonly used  plasticizer known as DINCH, which is found in products that come into close contact with humans, such as medical devices, children's toys and food packaging, was put under the microscope  by Montreal researchers. According to a new study from the Research Institute of the McGill University Health Centre (RI-MUHC) DINCH's metabolites exert biological effects on metabolic processes on in vitro animal models. The findings, published in the journal Environmental Research, may have important implications considering the increasing and broader use of DINCH promoted in recent years as a safe alternative to phthalate plasticizers.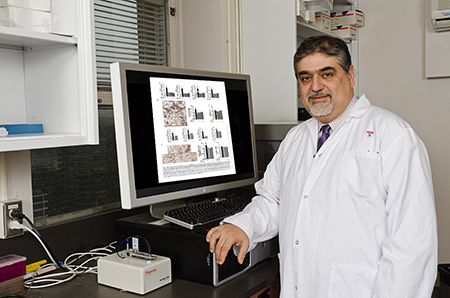 Dr. Vassilios Papadopoulos, study's lead author and a researcher in the Experimental Therapeutics and Metabolism Program of the RI-MUHC
"This is the first study, based on data obtained in vitro, to show a biological disruptive effect of MINCH – a metabolite of the plasticizer DINCH- on metabolism in mammals," states study lead author, Dr. Vassilios Papadopoulos, who is a researcher in the Experimental Therapeutics and Metabolism Program of the RI-MUHC and a professor of Medicine at McGill University. "There is  a clear need for more studies, especially to assess lower doses of MINCH than those used in existing studies and to perform more studies in relation to different tissues.''  
Health concerns about plasticizers have been the subject of considerable scientific, legal and media debate in recent years. Some phthalates – which are among the best-known plasticizers – have been restricted or banned in children's products across North America and in many countries in Europe, during the last 10 years, because of their effects on reproductive health. DINCH (1,2-cyclohexanedicarboxylic acid, diisononyl ester) has been used as an alternative and is approved and certified by many authorities and institutions worldwide. Compared to the amount of literature on phthalates there have been no peer-reviewed research publications on the potential metabolic -disrupting properties of DINCH and its metabolites, other than a critical review (Bhat et al. 2014) and regulatory agency reports.  
Based on the lack of biological and biochemical data available in the scientific literature, the research team, which has been working on phthalates for years, decided to evaluate the effects of DINCH and two of its major metabolites (CHDA and MINCH) with in vitro experiments on the adipose tissue of rats. In fact, the researchers initially used DINCH as a control, since it was presented as safe. The action of the DINCH metabolite MINCH was found to be similar to the phthalate MEHP.
The study shows that MINCH acts as a metabolic disrupter by affecting adipose tissue differentiation, in other words how fat is made in the body. They also found that, similar to phthalates, the effect of MINCH on in vitro models was mediated by a receptor involved in the metabolic system, which allowed the researchers to infer that MINCH could potentially interfere with the metabolic system in mammals.
"It is currently difficult to assess whether DINCH exposure represents a risk to human health before we conduct more research on in vivo models," explains Dr. Papadopoulos.
"We know that industry follows strict regulatory rules for their products, which are imposed by governments but science evolves as new technologies become available, leading to changes in regulatory requirements and regulations," he adds. "This science-informed, and population safety-driven, evolutionary process has led compounds once deemed safe (e.g. phthalates, Biphenol A, and many other drugs), to be revaluated and their use either banned or limited." 
According to the researchers, considering the continuous exposure of humans to plastics throughout life and the fact that there are periods in life when humans are more sensitive to exposures (such has early development), the effects of this plasticizer should be evaluated more thoroughly.
Funding:
This research was made possible by a grant from the Canadian Institutes of Health Research (CIHR) and a Canada Research Chair in Biochemical Pharmacology. The Research Institute of the McGill University Health Centre is supported by the Fonds de Recherche du Quebec-Santé (FRQS).
Related links:
• Environmental Research Journal: journals.elsevier.com/environmental-research
• McGill University Health Centre (MUHC): muhc.ca
• Research Institute of the MUHC: rimuhc.ca
• McGill University: mcgill.ca
Media contact:
Julie Robert
Public Affairs & Strategic planning
McGill University Health Centre
514 934 1934 ext. 71381
[email protected]
facebook.com/cusm.muhc | @cusm_muhc
www.muhc.ca | www.rimuhc.ca