The MUHC partners with the Rossy Cancer Network to smooth the rocky road of cancer survivorship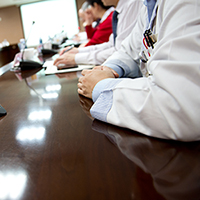 Cancer diagnosis and treatment is a frightening and stressful time for patients, often involving many consults and procedures with different specialists. Once active treatment ends it may feel like the difficult journey is finally over; but in reality this is a vulnerable time for survivors. An innovative program, called the Cancer Survivorship Program, which is being launched at the McGill University Health Centre (MUHC) bolstered by an initiative underway at the Rossy Cancer Network (RCN), aims to improve the follow-up care and surveillance needs of patients who have completed cancer treatments.
"Cancer survivors can be disease free, but the majority of them are never free of disease," says Dr. Genevieve Chaput, a family physician who specializes in cancer survivorship at the MUHC, and who is coordinating the new program. "Many suffer from treatment-induced problems such as pain, cognitive deficits, fear of recurrence and psychological distress, which may lead to an incidence of suicide that is twice that of the general population. 
In addition, due to their chemotherapy, radiotherapy, and other cancer treatments, survivors are at a significantly higher risk of developing serious comorbid conditions, such as osteoporosis, lymphedema, neuropathy, and cardiovascular diseases. While the MUHC's Cancer Care Mission team is renowned for its excellence in cancer treatment and monitoring for recurrence, much work remains to provide optimal surveillance for such potential problems – a poorly addressed need in numerous other health jurisdictions as well. 
"Specific follow-up care by family physicians is essential to ensure the victory against cancer is not followed by defeat against a host of other preventable diseases", says Dr. Chaput. "Current evidence shows that while family physicians are already caring for survivors in their practice, an overwhelming number of them feel ill-equipped to do so due to lack of formal training and adequate support.
The RCN's Finding Common Ground initiative tackles these issues head-on.  "A first step is to improve the flow of communication," says Dr. Chaput, who is co-leading the initiative along with project champions at the Jewish General Hospital and St. Mary's Hospital Center. "Our objective is to ensure that each survivor, who has completed their cancer care in the McGill-affiliated hospitals, receives a treatment summary and a surveillance plan for their family physician." Also, in response to a Montreal needs assessment study conducted by Dr. Chaput and her community based colleague Dr. Desanka Kovacina, Dr. Chaput and the team at the RCN have developed educational sessions on common survivor issues and surveillance recommendations for family physicians. The first three training sessions held this past month at St-Mary's Hospital Center, the Queen Elizabeth Health Complex and the CLSC Côte-des-Neiges attracted over 70 physicians. An upcoming session will be delivered to family physicians at the Jewish General Hospital. 
When the MUHC's Glen site opens to the public in the spring, the Cancer Survivorship Program will be opening a clinic that will serve two key functions – to facilitate the coordination of care from active treatment to survivorship surveillance needs, as well as to provide an expertise consultation resource to family physicians in the community.  "This clinic will also identify survivors without a family physician, and will operate a matching service that will pair patients with already identified family physician champions in the community," says Dr. Chaput.
"More people are surviving cancer than ever before. Today, around 65 per cent of people survive cancer, which amounts to nearly one million people in Canada," says Dr. Armen Aprikian, Head of the MUHC's Cancer Care Mission and a lead member of the RCN's Executive Committee. "The Cancer Survivorship Program is a game-changer in ensuring that this growing population gets the care they need. And the RCN's Finding Common Ground initiative is supporting that important work." 

For more information, please contact:
Vanessa Damha
Communications Coordinator
Public Affairs and Strategic Planning
McGill University Health Centre
e: [email protected]
t: 514-843-1560