Breast(s): A different kind of cancer story...
MONTREAL – The McGill University Health Centre (MUHC) is proud to be the first hospital to welcome the exhibit Breast (s): A different kind of cancer story. Breast(s) is a series of photographs and accompanying cartoon drawings of eight women between the age of 26 and 60 who show their resilience in the face of breast cancer. On display at the Glen site until February 2016, this inaugural exhibit gives a refreshing and light-hearted look at how these women experienced breast cancer.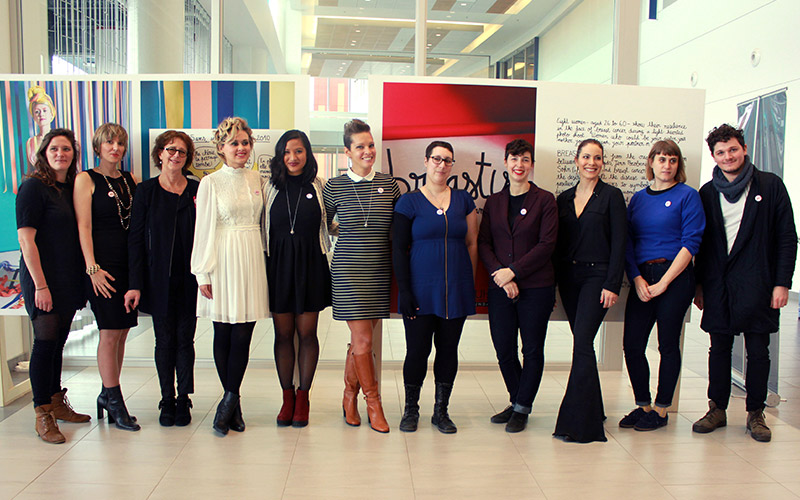 Julia Marois (photographer), Nancy Cloutier, Lucie Piché, Lolitta Dandoy, Nalie Agustin, France Montreuil, Macha Guy, Lili Sohn, Maude Shlitz, Jenn Pocobene (styliste) et Charlie (video).
Breast(s) emerged from the creative collaboration between two friends, Jenn Pocobene (stylist) and Lili Sohn (illustrator and former cancer patient), with the desire to fight the breast cancer while remaining optimistic. Wearing scarves to symbolize hair loss during chemotherapy, these women reclaim their femininity by wearing colourful outfits as they pose for Julia Marois's camera. Along with each photo, the women share an anecdote or intimate moment concerning their experience, as illustrated by cartoonist Sohn. 
A former patient of the Cedars Breast Clinic of the MUHC, Sohn began drawing her own experience with cancer in a humoristic blog called Tchao Günther in February of 2014, when she was first diagnosed. "There was so much going on, so many emotions that drawing it out made the most sense," says Sohn, who is now 31. "Not only was it a way for me to better understand my situation, but a way for me to explain it to others." Sohn recently published her second comic book, entitled La guerre des tétons, tome 2: Extermination. "I am proud to be able to come back to the hospital with this exhibit. It's a way for me to give back to the staff because they gave me so much during my cancer treatments."
The MUHC community is thrilled to see this type of artistic creation stem from cancer patients' experiences. "Keeping a positive outlook during treatment is an important tool for any patient," says Dr. Sarkis Meterissian, Director of the Cedars Breast Clinic of the MUHC. "It is a delight to see such positivity and creativity adorning the walls of the Glen. It offers hope and inspiration to others facing similar challenges."
The eight women involved in Breast(s) are: Nalie Agustin | Nancy Cloutier | Lolitta Dandoy | Macha Guy | France Montreuil | Lucie Piché | Maude Schiltz and Lili Sohn.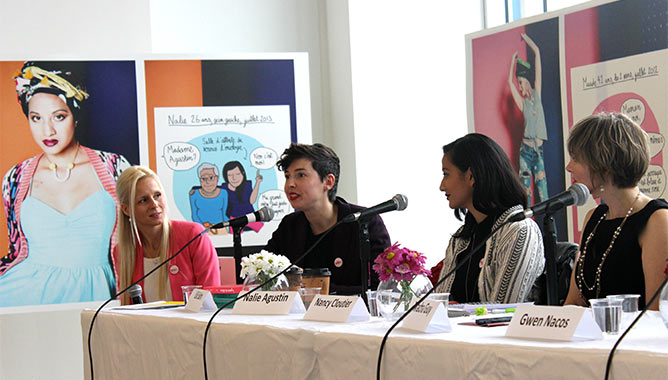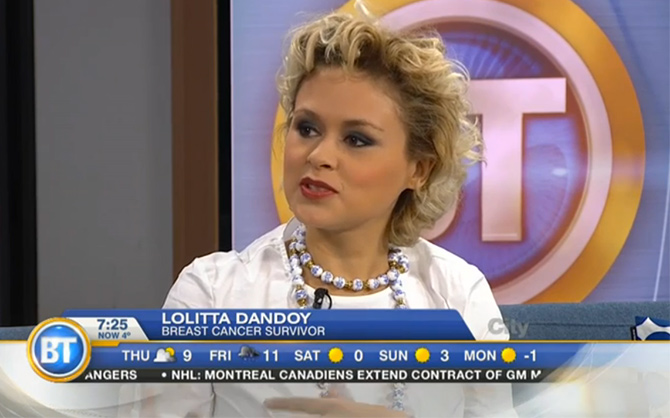 Breast(s) was originally initiated by the Groupe Sensation Mode in collaboration with La Vie en Rose during the 2015 Edition of the Festival Mode et Design. It is made possible at the Glen site by the RBC Art and Heritage Centre, the Cedars Cancer Foundation, the MUHC Foundation and the Rossy Cancer Network.
Contact:  
Julie Robert
Public Affairs & Strategic planning
McGill University Health Centre
[email protected]
(514) 934-1934 ext. 71381