Telemedicine in James Bay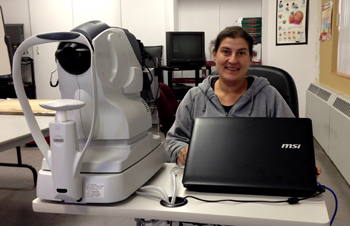 The McGill University Health Centre (MUHC) in partnership with the Cree Board of Health and Social Services of James Bay (CBHSSJB) and the Department of Ophthalmology of McGill University is pleased to announce a new tele-ophthalmology service that has been implemented in the Cree communities of the James Bay region of Quebec. Given the diabetes epidemic in the north, this service, which will be used to detect diabetic retinopathy, is a priority for the Cree territories.
Diabetes is one of the main health problems that affect the Cree population and it increases in prevalence every year. The problem is compounded by limited access to specialists and general practitioners, so that the medical care needed to control diabetes is limited, while waiting lists are long. Side effects of this disease, including diabetic retinopathy (damage caused to the retina by complications of diabetes, which can lead to blindness) occur at a higher rate than in the rest of Quebec's population.
The tele-ophthalmology service gives access to diabetic retinopathy screening tests that are performed by trained personnel in the Cree communities and is then digitally transmitted for interpretation to the MUHC Ophthalmology team. If follow-up treatment is required appointments are set at the Val-d'Or Health Centre or at the MUHC in Montreal. 
"The purpose of this system is that it brings healthcare services closer to patients that are otherwise difficult to reach," explains Dr. Laurent Marcoux, medical director of Professional Services in the Cree region. "In some cases, a doctor would have to travel more than 15,000 kilometres for over two days to reach the affected communities or the patient must travel south. By having on-site personnel trained to deliver these exams, the communities are taking ownership of their own community health care. We are very proud to support this endeavour."
According to Johanne Desrochers, associate director for Telehealth Services at the MUHC, among the many benefits of this new technology, is it greatly facilitates the exchange of clinical information, while respecting the standards of security and confidentiality.