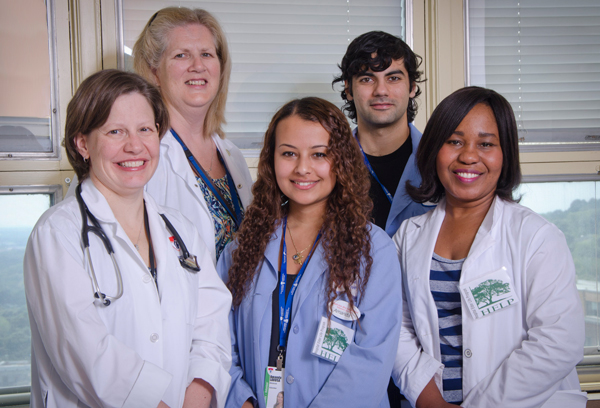 From left to right: Nadine Larente, Guyanne Goulet, Amanda Larosa, Harman Paintal, Marie Françoise Jean-Pierre
The Elder Friendly Program—a multidisciplinary approach to care that focuses on adapting the physical environment, clinical protocols, attitudes and the ethical treatment of the elderly to the specific needs of ageing patients—is in its third year at the McGill University Health Centre (MUHC).
"We are seeing this type of initiative more and more in North American hospitals," says Dr. Nadine Larente, the head MUHC geriatrician behind the project. "The goal is to sustain the physical and functional capabilities of the elderly population during their hospitalization to prevent delirium." This approach results in reduced length of stay and number of patients requiring rehabilitation or long-term care, and increases survival rates, which contributes to overall improved patient safety and quality of care.
Several pilot projects are currently being deployed to adapt services to this elder population. For example, a new tool is being used at the Ross 5 unit of Royal Victoria Hospital that allows nurses to document the physical and cognitive capabilities of patients before and during their hospital stay. Communication between staff members has also improved thanks to new white boards hanging over patient beds, which indicate the specific needs and capabilities of each patient.
In addition, the 12th and 15th floors of the Montreal General Hospital (MGH) began using the H.E.L.P program (Hospital Elder Life Program) last January, which was created at Yale University to facilitate the hospital stay of elderly patients. This approach rests on the support and collaboration of volunteers and aims to prevent delirium and functional decline through the physical stimulation of ageing patients. Where this program is being used in North America, a 40 per cent decrease in delirium is observed.
"Volunteers go through 16 hours of training and cover ways to support the elderly population by promoting proper hydration, orientation and mobility," explains Guyanne Goulet, a nurse involved in the program. All patients aged 75 years and older or younger patients who fit the geriatric profile are eligible to take part. The nurses evaluate the patients and suggest activities according to their specific needs. Volunteers then adapt the program to each patient.
"There are different protocols for each activity. It can be about helping a patient walk, eat, or simply spending time with them, such as playing a round of cards. It is a very personalized approach that reduces the amount of stress associated with being hospitalized," says Marie Françoise Jean-Pierre, clinical nurse implicated in the H.E.L.P program. After their visit, the volunteers report back to the nurse and share their findings.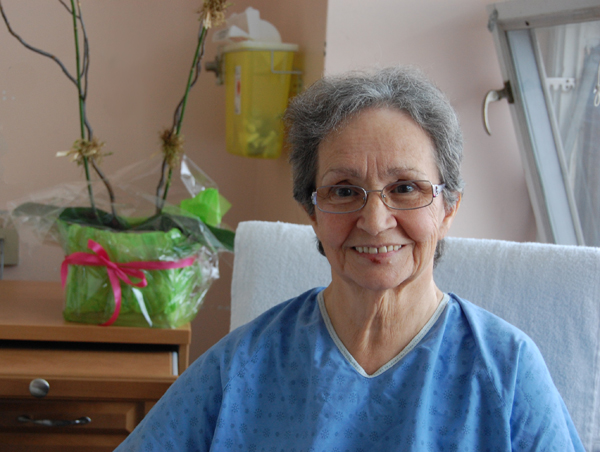 Eliane Dalcourt, a patient who benefited from the program.
Eliane Dalcourt was recently hospitalized for surgery at the MGH. She benefited from the program from the very first day of her hospital stay. "The volunteers are always friendly, and that's important to us," says Dalcourt. "They support us, they have so much patience and they take the time to help us. It's very reassuring to me."
To address the actual physical surroundings of our elder patients, a committee was created to ensure the new Glen site installations and the renovations being made to the Montreal General and Lachine hospitals follow the requirements of an Elder Friendly hospital.
"A lot of work is being done for our elder population," says Goulet. "We are definitely on the right track."