It's never too late to quit
When Dr. Jean Bourbeau, a respirologist at the Montreal Chest Institute of the McGill University Health Centre (MUHC), talks about chronic obstructive pulmonary disease (COPD), he is emphatic about one very important point.
"Smoking is the primary cause of COPD," he says. "If you're a smoker who is living with the disease, the main treatment is to quit, and it's never too late. People start smoking for many different reasons, but they continue smoking for one reason: addiction. With COPD cases almost doubling in Montreal over the last 10 years, it is clear that we need to do more to help smokers permanently overcome their addiction and improve their quality of life."
World COPD Day falls on Wednesday, November 20, and the MUHC will mark the occasion by launching IMPACT, a new smoking cessation program coordinated in partnership with the MSSS de la Montagne and the iQuitnow counselling service.
Based on the groundbreaking Ottawa Model for Smoking Cessation (OMSC), which was developed by the University of Ottawa Heart Institute in 2004, IMPACT will be the first program in Montreal that combines proactive outreach to smokers in hospital with systematic counselling, treatment and ongoing support.
IMPACT will apply the OMSC's five-point approach, which begins by identifying and documenting the smoking status of all patients admitted to the participating MUHC hospital divisions. While they are in hospital, smokers will receive personalized counselling and advice regarding treatment and medication options to alleviate their nicotine withdrawal symptoms.
For up to six months after their discharge, program participants will receive a series of automated telephone calls that will ask them to respond to a triage-style series of questions to determine their belief in their ability to refrain from smoking. Patients at risk will then receive live support from a counsellor at iQuitnow.
In its initial pilot phase, IMPACT will be offered in the Cardiology division of the Montreal General Hospital and Royal Victoria Hospital, the Pulmonology division of the Montreal Chest Institute (MCI) and to pregnant women, vulnerable families with newborns and patients with chronic diseases at the CSSS de la Montagne. The program will be delivered by three integrated and interdisciplinary teams of doctors, nurses, counsellors and specialists. The MUHC team is led by Dr. Gaston Ostiguy, pulmonologist, and Dr. Sean Gilman, respirologist and smoking cessation specialist.
For the 22 per cent of Montrealers who smoke, IMPACT's focus on ongoing support and positive reinforcement could make a significant difference for their ability to quit. As one former smoker said, "When you're trying to quit smoking, you absolutely need to have someone there to listen to you and provide advice to help you overcome your fears. Having someone to talk to is so important. "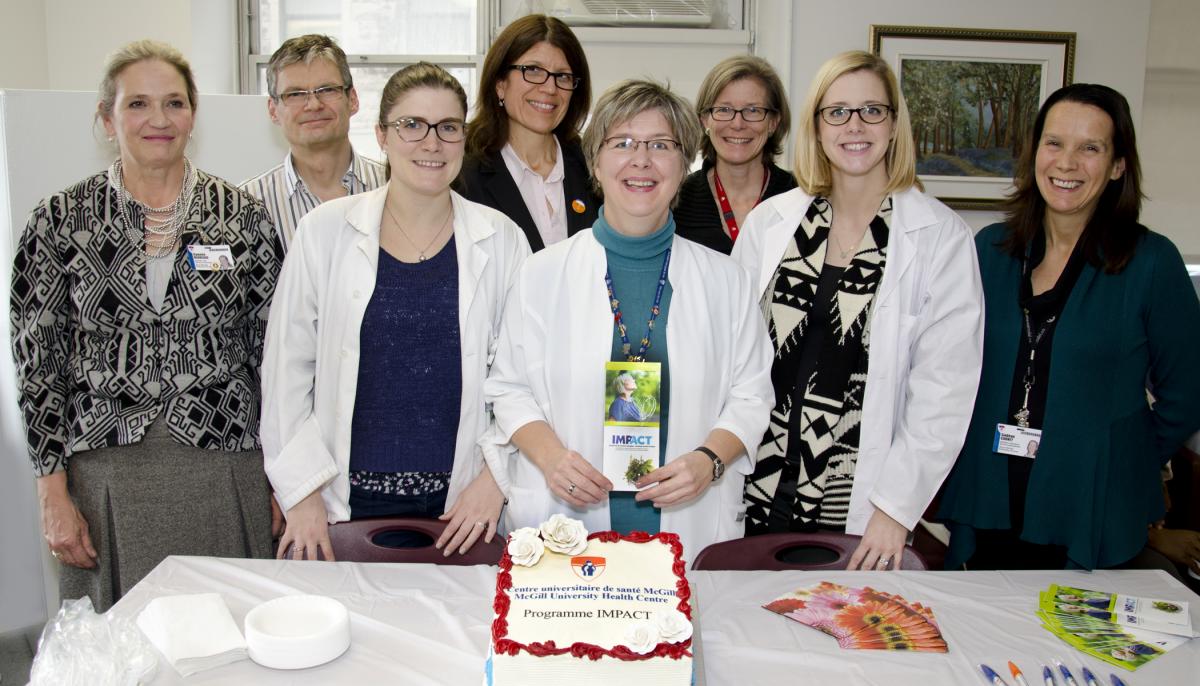 Front row: Danielle Beaucage, Élizabeth Sévigny, Nicole Sauvé, Bernadette Couture and Siobhan Carney
Back row: Michel Lebel, Chantal Souligny and Alison Turner