Cancer survivor a new dad thanks to MUHC Reproductive Centre
Dr. Peter Chan, McGill University Health Centre (MUHC) director of Male Reproductive Medicine, has been researching ways to identify and isolate the healthiest and strongest sperm available to improve the success of in-vitro fertilization (IVF) treatment.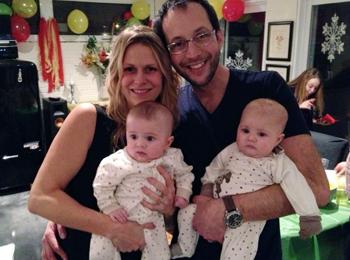 When Jay Bouvier was 27 and preparing for his first chemo treatment for non-Hodgkin lymphoma, his oncologist asked him if he wanted to be a father some day. Bouvier recounts, "I said 'yes, that's the plan'." So before starting his six-month chemo treatment – a process that would leave him infertile – he paid a visit to the MUHC Reproductive Centre and banked a sample of his sperm. Soon after his chemo treatment, the cancer returned, and he underwent a bone marrow transplant thanks to a donation from one of his brothers. Six years later, cancer free and newly married to his wife Isabelle, the couple initiated a course of IVF treatment. As he had been sick with cancer at the time he banked his sperm, Bouvier was concerned about its health and viability. So, he joined a study led by Dr. Chan that would benefit from Chan's approach to sperm selection. After their third attempt, Isabelle got pregnant and gave birth to healthy twins, pictured above.