MUHC nursing talent shines at international conference
A dynamic group of nurses from the MUHC joined thousands of their colleagues from around the globe at Montreal's Palais de Congrès from July 1 to 5 for the world's largest nursing conference. The International Council of Nurses (ICN) Congress is an opportunity for nurses and other health leaders to share best practices, research and knowledge.  Held every two years, the event was virtual in 2021 due to the pandemic.  This year's theme "Nurses together: a force for global health" was particularly appropriate.
MUHC nurses front and centre 
The MUHC was well represented at the four-day conference. Many MUHC nurses attended as delegates, and close to two dozen were selected to share their innovative practices and expertise with others through presentations. With topics ranging from the critical role of nurses in emergency and disaster management, to nursing leadership, to growing and sustaining the nursing workforce — there was something for everyone at the congress.   
We had the privilege to speak with a few of the MUHC nurses chosen to make an oral presentation. 
Jasmine Lee Hill, RN, M.Sc(N), CMSN(C) 
Nursing practice consultant 
When Jasmine submitted her abstract for consideration to ICN it was in her capacity as an advanced practice nurse in the Intensive Care Unit at the Glen. The ICU team identified shortfalls with clinical documentation or ICU charting and got to work updating an indispensable system that records vital signs, pain, nursing assessments and various information on cognitive, mental and respiratory conditions. "We developed a tool which is a 24-hour assessment booklet.  It standardizes and harmonizes the head-to-toe assessment and puts all forms in one booklet.  We really wanted to make sure we weren't double documenting," she says.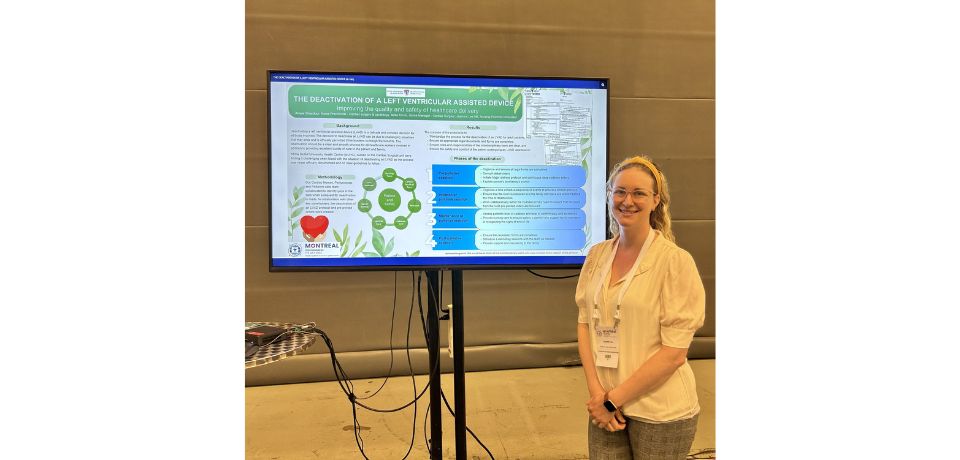 The feedback from nurses and a subsequent pilot project has been overwhelmingly positive. "The nurses felt like it saved them time.  They were charting less. They were able to be at the bedside more often," she explained. Spending less time documenting has been identified as a key strategy in addressing nurses' workload and thus allowing more time at the bedside where nurses can make a true difference.
Sophia Kapellas, RN, MSc(A) 
Advanced practice nurse 
The tragic death of Joyce Echaquan in the fall of 2020 was the impetus behind the development of the Culturally Safe Indigenous Birth in High-Risk Obstetrics project – a project that was also recognized by the MUHC Nursing Innovation Award. "Joyce's death hit very hard," admitted Sophia. "This is a project very close to our hearts."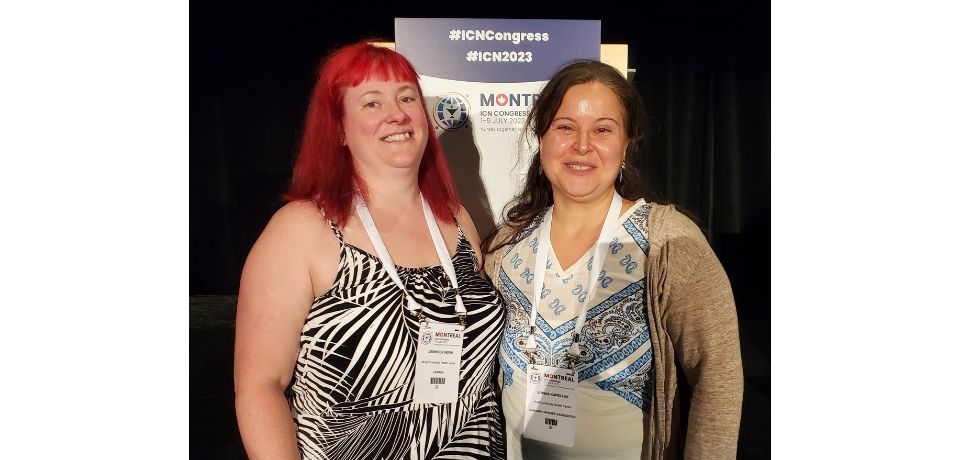 Delegates were shown how the hospital visiting policy was adapted to include a stronger family presence in the delivery room, how traditional foods were used to make Indigenous patients feel more at home and informed about the importance of working with Indigenous partners to develop a culturally safe training program.  "Throughout consultations, the word "safe" was often repeated," she said. "People who care for Indigenous patients need to ask them what is safe for them.  That is what worked for us.  We are hoping that others will do the same. I don't think it is necessarily very different from one country to another or from one culture to another. " 
Patricia Alfaro 
Nursing care counselor and professional development educator 
The ICN Congress provides a global platform to the nursing community to share ideas, innovative projects and health success stories. ECMO, or extracorporeal membrane oxygenation, is a life-saving therapy that treats patients in cardiac arrest or with severe respiratory failure when all other conventional therapies have been exhausted and death, without further support, is imminent. Patricia spoke to delegates about the multidisciplinary ECMO team and highly specialized nurse training program. "The presentation was well received. I felt like nurses were ready to buy in and wanted to know how to be trained for this advanced care."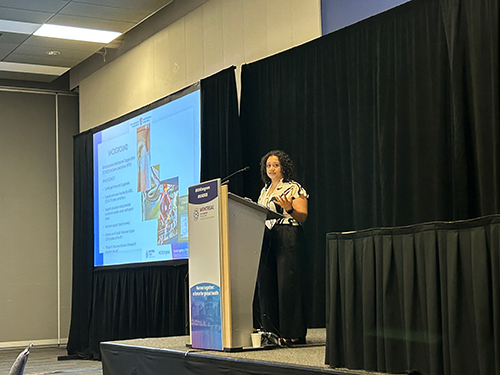 The MUHC is the only centre in Quebec to offer the full complement of ECMO therapy. Sixty-six ICU nurses at the Glen are certified. Traditionally it is run by perfusionists, but as it becomes more and more mainstream nurses are playing a larger role. "Who takes care of the patient 24/7?  It is the nurses," says Patricia. "This program places us on the map in Quebec with its specialized training, but it also places us on the map in Canada. Our goal for 2024 is to apply for certification as a Centre for Excellence as well."
Endless possibilities and unlimited support 
The ability to share their experience and simultaneously promote and advance the nursing profession meant a lot to the nurses who participated. "We are doing important things at the MUHC," says Sophia. "We have excellent collaboration and have many opportunities to grow. This isn't available everywhere," she said.  "If you are motivated about something, for example the environment, there are ways to push your ideas within the MUHC." 
Sophia's colleagues echoed this strong sense of engagement. "There is such great support at the MUHC.  I feel like we want people to grow in the nursing profession.  We want them to be involved," said Jasmine.  
The trio also highlighted the synergy between all the stakeholders. "We built ECMO from the ground up and despite the pandemic, we managed to get it up and running in a year," Patricia said proudly. "We had unparalleled support thanks to the collaboration from the units, the surgeons and medical teams and all of the members of the ICU."   
Nursing opportunities at the MUHC 
Interested in joining our dynamic nursing team?  The MUHC has many career paths open – whether it is on a unit, in the Emergency Department, in a clinic or in administration. Find out more on our Nursing Career page. 
MUHC nurses participating in ICN Congress
Patricia Alfaro
Marly Alix
Alain Biron
Nicole Drummond
Millie Firmin
Lisa Frick
Amale Ghandour
Eric Gilbert
Jasmine Lee Hill
Sophia Kapellas
Andréa M. Laizner
Rita Larotondo
Marie-Eve Leblanc
Virginia Lee
Christine Lefebvre
Emma Monaco
Trudy Naraine
Karina Olivo
Claudiane Poisson
Hilah Silver
Sophie Vamvakidis
Carissa Wong
Picture Gallery