Congratulations to Veronique (Nicky) Fraser, finalist for a 2023 Florence Award from the OIIQ!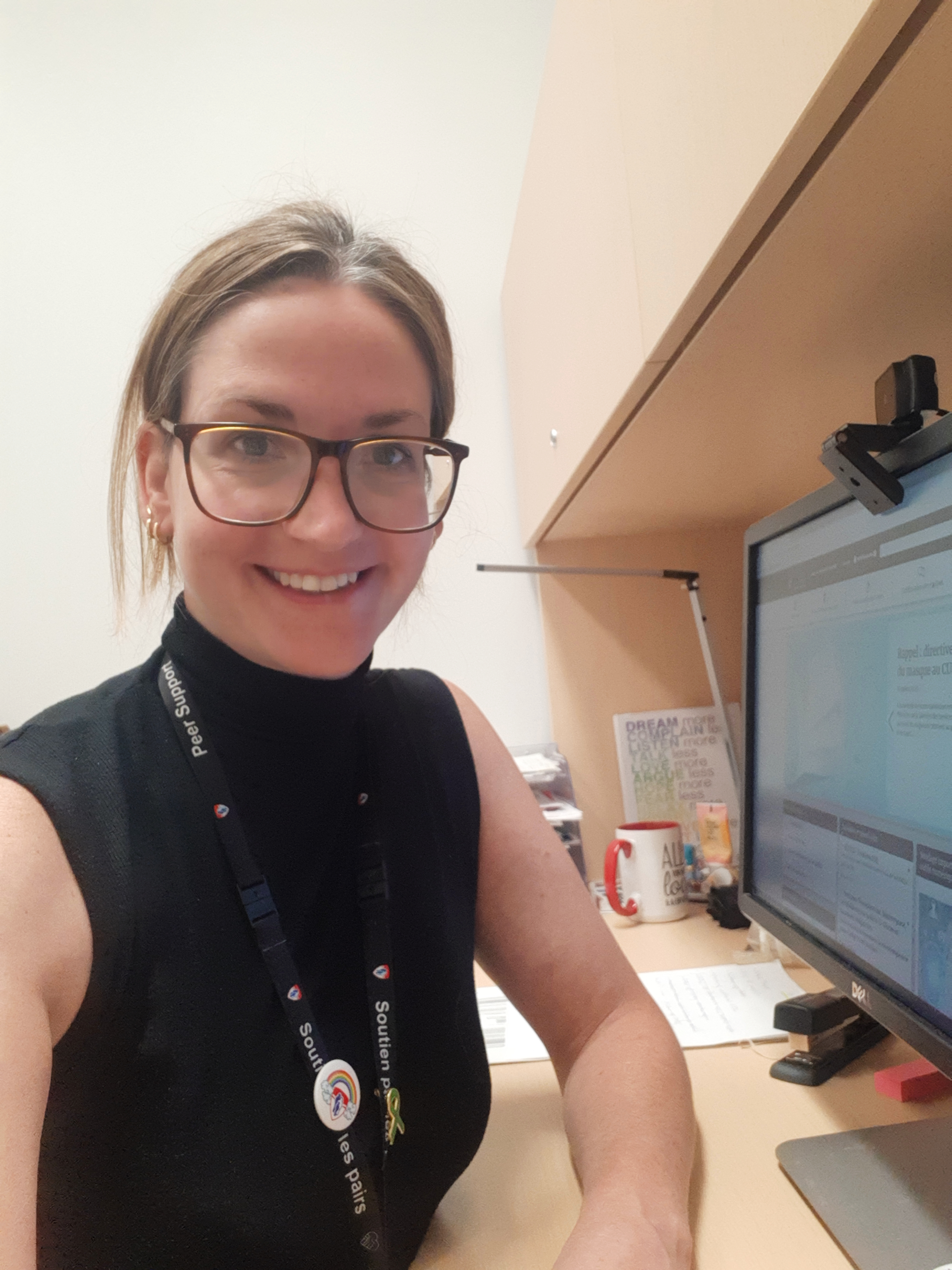 Veronique Fraser is nominated for one of Quebec's most prestigious nursing awards: the Florence 2023 Award from the Ordre des infirmières et infirmiers du Québec (OIIQ), in the Collaborative Practice category. Veronique, who colleagues and friends know as Nicky, works as the MUHC's Advanced Practice Nurse for Medical Aid in Dying (MAID), a position that requires a deep understanding of medical ethics. MAID nurses are responsible for supporting patients, families and healthcare teams who are going through the MAID process. The MUHC is one of the first institutions in Quebec to have created this important position. 
"One of the most fulfilling aspects of what I do is listening to patients and families, who urgently need to have their stories heard," shares Veronique. "It's very touching to know that my peers, who work so hard themselves and who inspire me, have nominated me for this award." 
Veronique says that MAID can be controversial, with compelling arguments made on both sides by those who are for it and against it. When asked what guides her, Veronique highlights the role of compassion as well as her innate interest in philosophy. From a young age, Veronique was passionately interested in learning about ethical standards, questions and issues. This led to her pursuit of an undergraduate degree in philosophy, followed by a Master's degree in nursing. Her career as a nurse began in the Emergency Department of the Montreal General Hospital, where Veronique made fond memories with her team: 
"I still miss my time as a nurse in Emerg-trauma," she reminisces. "I loved my team and I felt so supported and accompanied. Joining the MUHC is a truly wonderful opportunity for nurses." 
The MUHC's Director of Nursing, Alain Biron, is exceptionally proud of Veronique and all of her accomplishments: "Nicky's professional journey is quite impressive. Her knowledge and expertise are remarkable, and at the same time, she is truly dedicated to doing good. During the pandemic, she was one of few people who went to help in nursing homes while they were in crisis, and she also helped homeless patients in another facility. All the while, she supported MUHC patients and families, continuously improving our MAID program. Nicky's nomination is so well deserved!" 
On a day-to-day basis, Veronique is hard at work accompanying patients who have requested MAID, supporting their families, developing patient education material, conducting research, and supervising nursing students interested in MAID. She is also a part-time Faculty Lecturer at the Ingram School of Nursing, McGill University.  
"To young nurses and nursing students, I would say, you've chosen a rewarding occupation. Be patient with yourself. It takes time to grow your confidence. The MUHC is a wonderful place to work if you're thinking of applying. I'm always impressed by the strength, comradery and compassion that guides our MUHC teams." 
The award ceremony, named La Soirée Florence, will be hosted by the OIIQ on October 25, 2023.