MGH resuscitation tent provides critical support and space during COVID-19 pandemic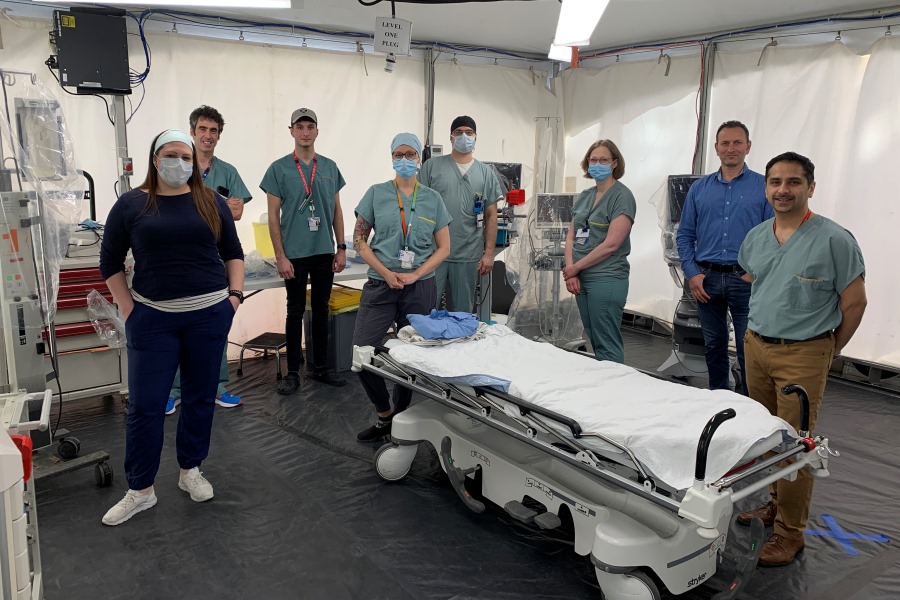 As the MGH continues to fulfill its mandate as a Level 1 Trauma Centre during the COVID-19 pandemic, the new structure minimizes infection risks for both patients and staff.
As a Level 1 Trauma Centre*, The Montreal General Hospital is no stranger to handling victims of car crashes, shootings, and bicycle accidents. But with the need for isolation and extra space  in high demand during the COVID-19 crisis, the process of caring for these critically injured patients has had to be adjusted.
"We absolutely need to minimize infection risks," says Dr. Kosar Khwaja, trauma surgeon and critical care physician. "Normally, our trauma bay can handle up to three patients at a time, but with the arrival of COVID-19, we must take extra precautions to ensure that patients are isolated from one another. Trauma care often involves resuscitation and aerosolizing, procedures that need to be done safely, in isolation. Because we only have one trauma bay at the MGH, we needed to replicate the same facilities in the event that we receive multiple casualties at once, which happens often."
Dr. Khwaja says that the experience he and his colleagues have in disaster preparedness and working with the Canadian Red Cross and ICRC (International Committee of the Red Cross) in field hospitals across the globe made the needs assessment easier. "This is essentially a small field hospital where we can practice medicine and surgery. We can perform X-rays and all major interventions, even massive blood transfusions. If we receive several traumas at once, this tent could handle up to three critically ill patients at the same time."
When asked how the project came together in just one week, Dr. Khwaja says it's thanks to the quick thinking and collaboration of many MUHC departments.
Jacques Avital, a project supervisor who has been at the MUHC for 12 years, was the Technical Services lead on the project. "In the actual circumstances, the project needed to be delivered "yesterday," so we really needed to work around the clock to complete it as quickly as possible. Everyone stepped up to the plate: Building Services, Housekeeping, Infection Prevention and Control, Logistics, Nursing, and Emergency Measures. The efficiency and collaboration of all was outstanding."
After assessing the needs of the Trauma and ED teams, Jacques quickly got to work to find flooring, electricity, and heating, as well as an air exchange system, a mobile sink, and monitors. Even wi-fi was installed. In fact, as the temperature gets warmer, he already plans on replacing the heater with an air conditioner.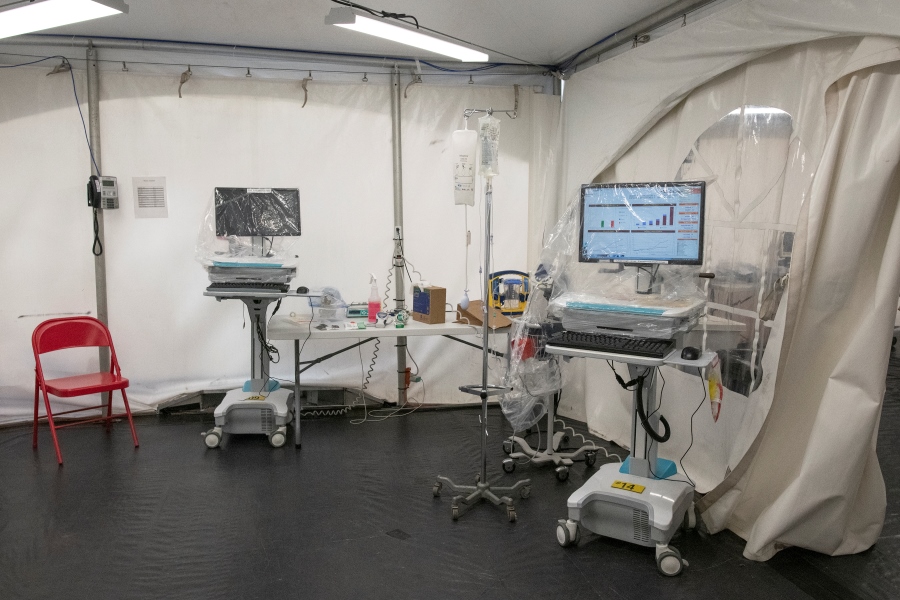 Jacques says he had to consult with Urgences Santé because the ambulance drop-off would need to be modified to accommodate the new set-up. "Our surgeons and ED teams wanted the tent to be as close to the Emergency as possible, which required changing the set-up of the ambulance area. We needed to validate this with our colleagues at Urgences Santé to ensure that these changes wouldn't be disruptive to patient transfers. To make ambulance drop-offs simpler and safer, bathrooms and a decontamination tent were set up so paramedics could clean and disinfect their equipment outside of the emergency area. Thanks to these facilities, they no longer need to enter the hospital, making it a safer environment for everyone involved."
When asked what he foresees for the next couple of months, Dr. Khwaja expects an increase in trauma cases. "We actually saw a slight decrease in the number of cases during the lockdown. Typically our busy season starts in May when the weather gets milder and the city is more active. We predict an increase in trauma cases as the confinement is gradually released, and more people are back on their bikes and in their cars. Thankfully, this new structure will help us better respond to trauma patients from our community, the island of Montreal and from numerous regions of Quebec in the COVID-19 era."
 
* A Level I Trauma Center is capable of providing total care for every aspect of injury – from prevention through rehabilitation.